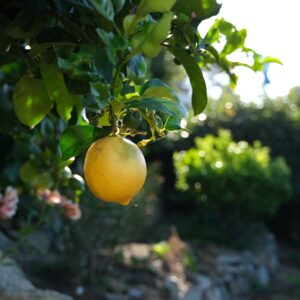 Planting A Lemon Tree
How to plant and grow lemons
Lemon trees make an excellent addition to almost every backyard and if you get the growing process right, you're ensured a regular, plentiful crop. The good news? It's easier than you think to grow your own lemons – great news for all the foodies out there!
Lemon tree varieties
The most common varieties grown in Australia are Eureka, Lisbon and Meyer. Eureka produces its main crop in winter with smaller crops in spring and summer. Eureka lemons have relatively few seeds and the tree is virtually thornless growing to around four metres in height.
Lisbon is thornier and produces its main crop in winter and tends to be more cold tolerant. It grows around three to four metres tall.
Meyers has a milder, less acidic flavour with a smooth, thin rind. Its main crop is produced in winter but it can crop continuously throughout the year. It's a small tree growing to around two metres in height, making it the ideal lemon tree to grow in a pot.
How to grow a lemon tree
Climate
The preferred climate depends on the variety of lemon, however most do well in warm climates. They tolerate drought but are sensitive to frost.
Aspect
Lemon trees require a position in full sunlight that is protected from winds and frost. If you're growing a lemon tree in a cooler climate, plant it close to a brick wall so it can utilise the radiating heat.
Soil
Lemon trees can tolerate a range of different soils but they mostly prefer slightly acidic, well-drained soil.
Planting
You can plant lemon trees at any time of year in warmer climates, as long as you water regularly. In cold regions plant in spring to protect it from late frosts.
Citrus will thrive in large pots – choose one that is 50cm in diameter or more, with plenty of drainage holes, and fill with a premium quality potting mix. It's a great idea to stand your pot on a trolley so you can easily move the pot to a sunnier or more protected position with the changing seasons.
If you're planting a lemon tree in the garden, start by digging a hole twice a wide and as deep as the pot your citrus comes in. Remove it from the pot and inspect the roots, untangling any that appear to be circling around or those that are tightly packed into the shape of the pot. Plant so that the original soil level in the pot is level with your garden soil. Backfill the hole with the removed crumbled soil, and work compost or well-rotted cow manure into the top 10cm of soil. Add a mulch of straw to the soil surface, but keep this away from the trunk. Water immediately after planting and from then on keep the soil slightly moist.
Water
Lemons grow best in soils that are moist but not soggy. Water your tree every seven to 10 days during the summer, providing it with 4 to 6 inches of water each month. Allow the soil around mature trees to partially dry between waterings. Overwatered lemon trees may suffer from crown and root rots, while those not watered enough frequently shed blossoms and don't produce as much fruit.
Feeding
Citrus produce loads of fruit! All that flowering and fruiting is a big consumer of energy so make sure you feed up your lemon tree to ensure further crops. You can tell if your tree is undernourished by poor stunted growth or yellowing leaves. Feed twice a year with citrus food, once in February and again in August. Follow the directions on the packet and water the soil well both before and after applying the fertiliser.
How to prune lemon trees
Pruning lemon trees is important for growing healthier and more plentiful fruit.
It's best to prune your lemon tree from late winter to early spring, right after harvest. Young trees should be pruned to establish a good shape, remove any sprouts or weak limbs so the plant can focus on growing a strong canopy.
When to harvest your lemons
Lemon trees generally take around two to three years to bear fruit and harvesting depends on the variety of plant. Eurekas produce fruit two to three time a year while Lisbons fruit once a year.
Lemons are ready to harvest when they have developed full colour and flavour. Harvest lemons when their peels are yellow or only a green tinge, with a slightly glossy appearance. The longer the fruit stays on the tree the sweeter it will become so some suggest picking and tasting your fruit to determine how the crop is developing.
To pick lemons, use the twist, tilt and snap method. Take the entire fruit in your hand and twist it gently, tilting and pulling away until it breaks free.
How to propagate a lemon tree
To propagate a lemon tree it's best to take a cutting in late spring or early summer. Choose a 15 centimetre piece of a healthy young branch without fruit or flowers and at least two to three nodes at the base. Us a non-serrated, sanitised knife to cut the stem at a 90-degree angle. Wrap cuttings in a moist paper towel to prevent dehydration.
Remove bottom leaves so the cutting has only three or so leaves at the top and dust the bottom with a hormone-based rooting powder. Plant the cutting in a large, well-draining pot with seed starter mix and cover it with a large clear plastic bag to create a warm, humid environment. Use chopsticks, wire or dowel to keep the bag from resting on the cutting. Keep the soil moist.
Once roots develop, remove the plastic covering. After a few days move the cutting outside in a sheltered location. Once the roots of the plant nearly fill its pot its time to plant it in a larger pot or garden.
Pests and disease
Scale insect: Found on stems and leaves, they have a waxy brown shell. Spray these sap-sucking insects with organic eco oil.
Leaf Miner: Tiny burrowing mites causing silvery trails and twisted leaves. They attack only fresh new leaves, so spray the new growth once a fortnight with eco oil until the leaves have matured and turned a dark green colour.
Stink bugs: May appear in large numbers from October. Knock them off the branches and squish them underfoot, but wear protective goggles as then bugs can squirt a painful liquid into your eyes.
Sooty mould: A black crusty coating on the leaves indicating the presence of a sap-sucking insect lurking higher up, such as aphids, scale or mealybugs. Treat the insect above and the sooty mould will clear up by itself. The mould is not harmful, it just looks yucky.
As long as you provide their basic needs, growing lemons can be a very rewarding experience. Outdoors Lemons are more cold-sensitive than all other citrus trees. Due to this cold sensitivity, lemon trees should be planted near the south side of the home. Lemon trees need protection from frost. Growing them near the house should help with this. Lemon trees also require full sunlight for adequate growth. While lemon trees can tolerate a range of soils, including poor soil, most prefer well-drained, slightly acidic soil. Lemon trees should be set slightly higher than ground. Therefore, dig a hole somewhat shallower than the length of the root ball. Place the tree in the hole and replace soil, tamping firmly as you go. Water sufficiently and add some mulch to help retain moisture. Lemon trees require deep watering once weekly. If necessary, pruning may be done to maintain their shape and height. Indoors Lemons can make excellent houseplants and will be comfortable in a container as long it provides adequate drainage and room for growth. Heights of around 3 to 5 feet (1-1.5 m.) can be expected for a lemon tree growing indoors. They also prefer well-draining, slightly acidic soil. Keep the soil evenly moist and fertilize as needed. Lemon trees thrive within a normal temperature range of about 70 F. (21 C.) throughout the day and 55 F. (13 C.) at night. Keep in mind that they will usually go into dormancy when temperatures fall below 55 F. (13 C.) Lemon trees require lots of light; therefore, they may need to be supplemented with fluorescent grow lights during winter. Explore More Lemon trees can be placed outdoors during warm periods, which is also recommended in order to increase their chances of bearing fruit. When you grow a lemon tree indoors, bees and other insects are unable to pollinate them.
Therefore, you should place them outdoors during summer unless you want to hand pollinate. Propagating for Lemon Tree Cultivation Many lemon trees are container-grown, purchased straight from the nursery. However, they can be propagated through cuttings, air layering, and seeds. The variety usually dictates the best method used; yet, different people see different results using different methods. Therefore, it's best to find the method that works for you. The majority find it easier to propagate lemons by rooting large cuttings. While seeds can be used, the seedlings are usually slow to bear. When choosing to grow from seeds, allow them to dry out for a week or two. Once dried, plant the seeds about an inch deep in good potting soil and cover with clear plastic wrap. Set the pot in a sunny location and wait for it to reach 6 to 12 inches (15-30 cm.) before transplanting outdoors or to another pot.
About Murray, Utah
Murray is a city situated on the Wasatch Front in the core of Salt Lake Valley in the U.S. state of Utah. Named for territorial governor Eli Murray, it is the state's fourteenth largest city. According to the 2020 census, Murray had a population of 50,637. Murray shares borders with Taylorsville, Holladay, South Salt Lake and West Jordan, Utah. Once teeming with heavy industry, Murray's industrial sector now has little trace and has been replaced by major mercantile sectors. Known for its central location in Salt Lake County, Murray has been called the Hub of Salt Lake County. Unlike most of its neighboring communities, Murray operates its own police, fire, power, water, library, and parks and recreation departments and has its own school district. While maintaining many of its own services, Murray has one of the lowest city tax rates in the state.
Things To Do in Murray, Utah
Bus Stops in Murray, Utah to Truco Services, Inc.
Bus Stop in Murray Central Station (Bay C) Murray, Utah to Truco Services, Inc.
Bus Stop in State St @ 4801 S Murray, Utah to Truco Services, Inc.
Bus Stop in Murray North Station Murray, Utah to Truco Services, Inc.
Bus Stop in State St @ 4949 S Murray, Utah to Truco Services, Inc.
Bus Stop in Murray Central Frontrunner/Trax Station Murray, Utah to Truco Services, Inc.
Bus Stop in Murray Blvd / Vine St (SB) Murray, Utah to Truco Services, Inc.
Bus Stop in State St @ 3925 S Murray, Utah to Truco Services, Inc.
Bus Stop in State St @ 4824 S Murray, Utah to Truco Services, Inc.
Bus Stop in State St @ 5223 S Murray, Utah to Truco Services, Inc.
Bus Stop in Murray Blvd / Allendale Dr (NB) Murray, Utah to Truco Services, Inc.
Bus Stop in Murray Blvd @ 5039 S Murray, Utah to Truco Services, Inc.
Bus Stop in State St @ 4721 S Murray, Utah to Truco Services, Inc.
Driving Directions in Murray, Utah to Truco Services, Inc.
Driving Directions from Woodruff Tree Trimming and Removal to 4640 Commerce Dr, Murray, UT 84107, USA
Driving Directions from Reliable Tree Care to 4640 Commerce Dr, Murray, UT 84107, USA
Driving Directions from Tree Pro-Tech to 4640 Commerce Dr, Murray, UT 84107, USA
Driving Directions from Prestige Tree And Landscape to 4640 Commerce Dr, Murray, UT 84107, USA
Driving Directions from Excellence Tree & Landscape to 4640 Commerce Dr, Murray, UT 84107, USA
Driving Directions from Amen Trees to 4640 Commerce Dr, Murray, UT 84107, USA
Driving Directions from Tim's Tree Care to 4640 Commerce Dr, Murray, UT 84107, USA
Driving Directions from Jordan Tree Service - Murray to 4640 Commerce Dr, Murray, UT 84107, USA
Driving Directions from Arbor Works to 4640 Commerce Dr, Murray, UT 84107, USA
Driving Directions from Diamond Tree Experts to 4640 Commerce Dr, Murray, UT 84107, USA
Driving Directions from Green Tree Arborist to 4640 Commerce Dr, Murray, UT 84107, USA
Driving Directions from TruCo Services to 4640 Commerce Dr, Murray, UT 84107, USA
Reviews for Truco Services, Inc. Murray, Utah
{ "@context":"https://schema.org", "@type":"WebPage", "headline":"Planting A Lemon Tree", "url":https://truetreeservices.com/planting-a-lemon-tree/", "about":
[{"@type": "thing", "name": "lemon tree", "sameAs": ["https://en.wikipedia.org/wiki/Lemon", "https://www.google.com/search?q=lemon+tree&kgmid=/m/09k_b"]}, {"@type": "thing", "name": "fruit", "sameAs": ["https://en.wikipedia.org/wiki/Fruit", "https://www.google.com/search?q=fruit&kgmid=/m/0fp_scn"]}, {"@type": "thing", "name": "lemons", "sameAs": ["https://en.wikipedia.org/wiki/Lemon", "https://www.google.com/search?q=lemons&kgmid=/m/09k_b"]}, {"@type": "thing", "name": "citrus", "sameAs": ["https://en.wikipedia.org/wiki/Citrus", "https://www.google.com/search?q=citrus&kgmid=/m/0dqb5"]}, {"@type": "thing", "name": "pot", "sameAs": ["https://en.wikipedia.org/wiki/Pottery", "https://www.google.com/search?q=pot&kgmid=/m/064rk"]}, {"@type": "thing", "name": "soil", "sameAs": ["https://en.wikipedia.org/wiki/Soil", "https://www.google.com/search?q=soil&kgmid=/m/09dv7"]}, {"@type": "thing", "name": "seed", "sameAs": ["https://en.wikipedia.org/wiki/Seed", "https://www.google.com/search?q=seed&kgmid=/m/09dh0"]}, {"@type": "thing", "name": "roots", "sameAs": ["https://en.wikipedia.org/wiki/Root", "https://www.google.com/search?q=roots&kgmid=/m/0flg6"]}, {"@type": "thing", "name": "pruning", "sameAs": ["https://en.wikipedia.org/wiki/Pruning", "https://www.google.com/search?q=pruning&kgmid=/m/02dj6v"]}, {"@type": "thing", "name": "flowers", "sameAs": ["https://en.wikipedia.org/wiki/Flower", "https://www.google.com/search?q=flowers&kgmid=/m/0c9ph5"]}, {"@type": "thing", "name": "rhs", "sameAs": ["https://en.wikipedia.org/wiki/Royal_Horticultural_Society", "https://www.google.com/search?q=rhs&kgmid=/m/0fsmj"]}, {"@type": "thing", "name": "citrus trees", "sameAs": ["https://en.wikipedia.org/wiki/Citrus", "https://www.google.com/search?q=citrus+trees&kgmid=/m/0dqb5"]}, {"@type": "thing", "name": "temperatures", "sameAs": ["https://en.wikipedia.org/wiki/Temperature", "https://www.google.com/search?q=temperatures&kgmid=/m/07gr_"]}, {"@type": "thing", "name": "frost", "sameAs": ["https://en.wikipedia.org/wiki/Frost", "https://www.google.com/search?q=frost&kgmid=/m/033kf"]}, {"@type": "thing", "name": "prune", "sameAs": ["https://en.wikipedia.org/wiki/Pruning", "https://www.google.com/search?q=prune&kgmid=/m/02dj6v"]}, {"@type": "thing", "name": "compost", "sameAs": ["https://en.wikipedia.org/wiki/Compost", "https://www.google.com/search?q=compost&kgmid=/m/0c8xvz"]}, {"@type": "thing", "name": "fertilizer", "sameAs": ["https://en.wikipedia.org/wiki/Fertilizer", "https://www.google.com/search?q=fertilizer&kgmid=/m/09b5b"]}, {"@type": "thing", "name": "sunlight", "sameAs": ["https://en.wikipedia.org/wiki/Sunlight", "https://www.google.com/search?q=sunlight&kgmid=/m/06z0n"]}, {"@type": "thing", "name": "harvest", "sameAs": ["https://en.wikipedia.org/wiki/Harvest", "https://www.google.com/search?q=harvest&kgmid=/m/03b848"]}, {"@type": "thing", "name": "humidity", "sameAs": ["https://en.wikipedia.org/wiki/Humidity", "https://www.google.com/search?q=humidity&kgmid=/m/01gmcl"]}, {"@type": "thing", "name": "drainage", "sameAs": ["https://en.wikipedia.org/wiki/Drainage", "https://www.google.com/search?q=drainage&kgmid=/m/0cl7h"]}, {"@type": "thing", "name": "grafted", "sameAs": ["https://en.wikipedia.org/wiki/Grafting", "https://www.google.com/search?q=grafted&kgmid=/m/02c73s"]}, {"@type": "thing", "name": "shoots", "sameAs": ["https://en.wikipedia.org/wiki/Shoot", "https://www.google.com/search?q=shoots&kgmid=/m/0dm9w"]}, {"@type": "thing", "name": "pests", "sameAs": ["https://en.wikipedia.org/wiki/Pest_(organism)", "https://www.google.com/search?q=pests&kgmid=/m/01dqkc"]}],
"mentions":
[{"@type": "thing", "name": "navel", "sameAs": ["https://en.wikipedia.org/wiki/Orange_(fruit)", "https://www.google.com/search?q=navel&kgmid=/m/0cyhj_"]}, {"@type": "thing", "name": "oranges", "sameAs": ["https://en.wikipedia.org/wiki/Orange_(fruit)", "https://www.google.com/search?q=oranges&kgmid=/m/0cyhj_"]}, {"@type": "thing", "name": "citrus fruit", "sameAs": ["https://en.wikipedia.org/wiki/Citrus", "https://www.google.com/search?q=citrus+fruit&kgmid=/m/0dqb5"]}, {"@type": "thing", "name": "citrus limon", "sameAs": ["https://en.wikipedia.org/wiki/Lemon", "https://www.google.com/search?q=citrus+limon&kgmid=/m/09k_b"]}, {"@type": "thing", "name": "sweet oranges", "sameAs": ["https://en.wikipedia.org/wiki/Orange_(fruit)", "https://www.google.com/search?q=sweet+oranges&kgmid=/m/0cyhj_"]}, {"@type": "thing", "name": "star ruby", "sameAs": ["https://en.wikipedia.org/wiki/Grapefruit", "https://www.google.com/search?q=star+ruby&kgmid=/m/0hqkz"]}, {"@type": "thing", "name": "mandarins", "sameAs": ["https://en.wikipedia.org/wiki/Mandarin_orange", "https://www.google.com/search?q=mandarins&kgmid=/m/01b4k8"]}, {"@type": "thing", "name": "rhs", "sameAs": ["https://en.wikipedia.org/wiki/Royal_Horticultural_Society", "https://www.google.com/search?q=rhs&kgmid=/m/0fsmj"]}, {"@type": "thing", "name": "sub-tropical", "sameAs": ["https://en.wikipedia.org/wiki/Subtropics", "https://www.google.com/search?q=sub-tropical&kgmid=/m/02412s"]}, {"@type": "thing", "name": "semi-tropical", "sameAs": ["https://en.wikipedia.org/wiki/Subtropics", "https://www.google.com/search?q=semi-tropical&kgmid=/m/02412s"]}, {"@type": "thing", "name": "transplanting", "sameAs": ["https://en.wikipedia.org/wiki/Transplanting", "https://www.google.com/search?q=transplanting&kgmid=/m/04m7q1"]}, {"@type": "thing", "name": "rootstock", "sameAs": ["https://en.wikipedia.org/wiki/Rootstock", "https://www.google.com/search?q=rootstock&kgmid=/m/07rsy_"]}, {"@type": "thing", "name": "aphids", "sameAs": ["https://en.wikipedia.org/wiki/Aphid", "https://www.google.com/search?q=aphids&kgmid=/m/015k4l"]}, {"@type": "thing", "name": "mulch", "sameAs": ["https://en.wikipedia.org/wiki/Mulch", "https://www.google.com/search?q=mulch&kgmid=/m/027t7q"]}, {"@type": "thing", "name": "tangelos", "sameAs": ["https://en.wikipedia.org/wiki/Tangelo", "https://www.google.com/search?q=tangelos&kgmid=/m/020h7v"]}, {"@type": "thing", "name": "citrus family", "sameAs": ["https://en.wikipedia.org/wiki/Rutaceae", "https://www.google.com/search?q=citrus+family&kgmid=/m/0kpp2"]}, {"@type": "thing", "name": "satsuma", "sameAs": ["https://en.wikipedia.org/wiki/Citrus_unshiu", "https://www.google.com/search?q=satsuma&kgmid=/m/036b5d"]}, {"@type": "thing", "name": "'meyer' lemon", "sameAs": ["https://en.wikipedia.org/wiki/Meyer_lemon", "https://www.google.com/search?q='meyer'+lemon&kgmid=/m/04klfb"]}, {"@type": "thing", "name": "cuttings", "sameAs": ["https://en.wikipedia.org/wiki/Cutting_(plant)", "https://www.google.com/search?q=cuttings&kgmid=/m/076_jj"]}, {"@type": "thing", "name": "clementine", "sameAs": ["https://en.wikipedia.org/wiki/Clementine", "https://www.google.com/search?q=clementine&kgmid=/m/0l7hb"]}, {"@type": "thing", "name": "citrus", "sameAs": ["https://en.wikipedia.org/wiki/Citrus", "https://www.google.com/search?q=citrus&kgmid=/m/0dqb5"]}, {"@type": "thing", "name": "fruit", "sameAs": ["https://en.wikipedia.org/wiki/Fruit", "https://www.google.com/search?q=fruit&kgmid=/m/0fp_scn"]}] }