If you have a tree next to your house, you need to trim it regularly to prevent the limbs from breaking and falling on your roof. Aside from this, the tree may cause mold growth on the sides of your house if not trimmed properly. During a storm, dead or damaged trees can pose serious risk to your house. Therefore, hiring a tree trimming service is a good idea.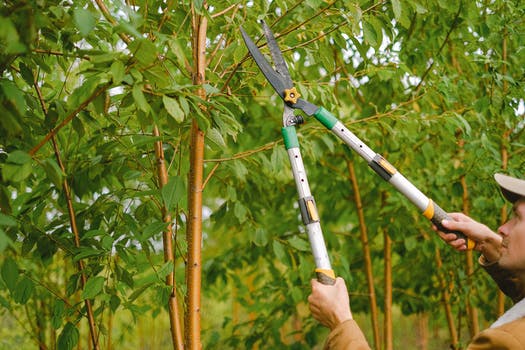 License And Credentials
First of all, you should ensure that the company is licensed. If the employees are not trained, they may end up causing damage to your house or trees. So, this is important to keep in mind.
Insurance
Don't allow a company to work near your house unless it has an insurance policy. This means that the company should have worker's compensation insurance and liability insurance. With liability insurance, you can easily cover the expenses if the employees end up causing damage to your property or home during the tree trimming service. Similarly, worker's compensation insurance offers protection for the employees and you in case the employees get injured during the job. In addition, it will offer protection for you against a lawsuit.
Referrals
Before you choose a company in Salt Lake City, don't forget to ask for referrals. You can then contact those customers to find out if they were happy with the company's services. It's important that you ask for referrals first. Keep in mind that inexperienced employees may not be able to work properly. They are more likely to make mistakes that may cause you a loss of thousands of dollars.
Get an estimate
Before you sign the contract, make sure you get an estimate. If the service provider shows hesitation while answering your questions about the total cost, look for another provider. Hiring the services of this type of company is not a good idea. They may rip you off.
Company charges
Next, you should find out how much you are going to get charged for the services. For instance, find out if they are going to charge you for stump grinding. It's better if you get a fixed quote for the entire job.
Equipment type
Find out about the type of equipment they are going to use for the job. The company should have all the required tools to do the trimming or removing of trees. Let them know what you need to get done. Without the right tools, they can't do a good job.
Compare the services
Since stump grinding is an extra service, your company may not offer this service unless you pay extra for it. For instance, if they don't have a crane, they may not be able to perform the work beyond a specific height.
Employee training
Find out about the background of the company employees. If possible, you may want to hire employees that have at least 5 years of experience doing the tree trimming and other jobs.
Things To Consider Before Hiring A Tree Trimming Service.
Happily thinking about how I would surprise my family with my baking skills, I carefully walked into the sitting room. Suddenly, everything went dark and I tripped and ended up face down in my masterpiece: the chocolate cake I had spent all evening preparing! Oh, how I cursed the power outage! Later, I learned that it had been caused by a tree, whose branches grew right through the electricity wires of my house.
Does this scenario sound familiar? If it does, then you must be aware of the importance of knowing the right tree trimming services required to avoid it.
There may be a number of reasons you may need to get your trees trimmed, like improving tree health and growth, removing troublesome branches, shortening a tree or maybe just to make it look good. Many people prefer the do-it-yourself method of dealing with this situation. However, this is not always the best and safest option. Tree trimming is a serious business and not everyone can do it. It requires training and education about safety, procedures and equipment.
The best option is to hire someone who offers professional tree trimming services in Salt Lake City. There are many businesses offering services to their surrounding areas therefore; it is not difficult to find one near you.
Tree trimming services provided are usually tree cutting, tree pruning, tree and stump removal and removal of damaged trees. Most service providers offer other specialized services such as cleaning up after the trimming process and cutting up and preparing firewood.
Professionals operating in mountainous areas or regions prone to storms and hurricanes also offer emergency services that are a call away. Such businesses usually own specialized equipment that is capable of handling any emergency that may occur as a result of high winds, storms and hurricanes. They also offer the additional service of assessing what trees need to be removed, cut or pruned prior to any such natural occurrence that may cause uprooting of trees thus minimizing the resultant damage.
Most of the best service providers also offer to look over your garden or land to give you, the client, an estimate of what tree trimming services you require and how often. They generally offer their services on a contract basis and have pre-planned programs allowing you to choose the one that best suits your needs. These programs usually also include landscaping programs allowing you the option to hire a single service provider for all your garden requirements.
Hiring professionally trained employees guarantees a job well done and well maintained trees. It also saves you the trouble of ending up with your face in your masterpiece.
Hiring Tree Trimming Services For Your Lawn
Trees found all around your house and property could be dangerous to you and your family if they grow next to the electric lines. You might not even realize that the tree in your backyard has engulfed the high power chords, entering your home. If there happen to be a storm or heavy rains, then it could be lethal to the life of the people in that house. The possible short circuit could cause terrible explosions and fires. In this case, the companies offering tree trimming services become very important and valuable.
Why trim trees? There are various reasons for trimming trees. Firstly, well-trimmed trees add to the beauty of the landscape. If you have unwanted growth of trees all over, then the garden does not look aesthetically beautiful. Trimming trees also improve the health of the trees. It is important to cut off the dead and decaying branches. The tree could be causing an obstruction in the driveway or pathway to your house. Thus, you will need to trim it down so that there is free passage.
Why hire services: Some people take up such jobs on themselves. They hire some equipment, which they know nothing about. With half-baked knowledge, they feel they can handle the situation in their backyard and deal with all kinds of tree problem. What they do not realize is that it is a specialized function and not everyone can trim trees. You need to have some basic skill and knowledge to prune trees. Following the safety measures is very important too. Tree trimming services has not become a business just for the thrill of it. They mean serious work.
Professional services: If you face any kind of tree related problems, it is best to look to experts for help. With their professional services, your problems will be over in the best possible way. There are plenty of companies providing such services. It will not be difficult for you to find one near your house. If not, then you can just search for companies that offer trimming services over the Internet. I assure you that you will get a list of companies with their contacts that will be happy to help you.
Services offered: The services offered by such companies include tree pruning or trimming, cutting, lumber removal, stump removal, landscaping, etc. Some of them even undertake to clear off the mess after a storm. The companies could also provide advice on landscaping and tree grooming. Several such companies provide services in mountainous regions or areas that are highly prone to tornadoes, hurricanes or storms. They have their own specialized equipment like saws and chain saws and ropes. Apart from that, such companies have their trucks and cranes needed to pick the lumber and tree branches.
They train people to work in different weather conditions, and give them knowledge about how to handle different issues related to trees. People working with such tree trimming services companies know how to handle emergencies due to storms and hurricanes. Companies that offer services to maintain and protect trees provide professional services. They are experts in handling all issues related to trees and their services are valuable.
Choosing the Right Tree Removal Service Can Save You Money and Headaches
Healthy trees that aren't too close to buildings or power lines help enhance the value and aesthetics of a property. However, when a tree is seriously diseased, decaying, or otherwise falling apart, it can be an eyesore and a potential cause of injury and property damage. In the majority of cases, trees are a desirable feature on a residential or commercial property. More often than not, trees enhance the value of a property and contribute to its overall visual appeal. Occasionally, trees can create problems for property owners or developers and have to be removed or cut back. When trees become a hindrance rather than an enhancement, it's time to find a reliable tree removal service.
To make an informed decision when choosing a tree contractor, it's necessary to get a minimum of two quotes. If you only contact one tree feller for an estimate, you'd have no way of knowing if they're overcharging you. By getting two or three comparative quotes from different tree contractors, you can usually save money and hire the tree removal service that you feel the most comfortable with. Since the work involved in removing or trimming trees can be hazardous, it's advisable to make sure a tree removal service you're considering carries the necessary insurance and has at least four or five years of experience.
To avoid fly-by-night tree removal services or those that have questionable qualifications, a little research on the Internet can help weed out unprofessional or unqualified tree fellers. Doing an Internet search for "tree removal service" can often yield an immediate list of local tree contractors. The ones that have taken the time to have a Web site created are often more professional, organized, and detail oriented than those that haven't. A tree feller or tree trimming service that has invested the money and time to create a presence on the Web is more likely to be established and well managed. You can also search for a tree contractor by name, followed by "reviews" to see what past clients have to say about their experience with the tree service.
When visiting the Web site of a tree removal service, three things to take note of are whether safety, experience, and customer service are emphasized. Tree contractors that make mention of affordable or competitive prices may also be worth a closer look, too. The best method for selecting a tree trimming service–or any type of contractor, for that matter–is through a personal recommendation from someone you know and trust. A neighbor who has used a reliable tree removal service may be an excellent source for a referral.
If you have the time and inclination to look, you can often get eye-opening reports about a tree feller from the Better Business Bureau's Web site. The BBB rates many established businesses according to a list of relevant criteria, including such things as the number of customer complaints and if the tree feller (or other contractor) has made a good-faith effort to resolve these issues.
Whether your objective in hiring a tree removal service is to get rid of a decaying tree or clear the area for construction, it's always a good idea to choose a tree feller that is experienced, safety conscious, and insured. Establishing a working relationship with a reliable tree trimming or removal company can also come in handy for future needs, such as stump removal or firewood.
What Are Your Tree Service Options?
Trees, although they can be aesthetically pleasing, provide you with some shade and help in cleaning the air, can also cause problems and with these problems come the hassles. Fortunately, you can always get in touch with a tree service provider to help you out? However, how does one exactly go about knowing which one to approach?
A professional service provider goes to your place, helps solve whatever problems you may have and generally just makes sure that it will no longer post a threat to you, your loved ones and your property. They will also keep being environmentally responsible in mind, by turning removed ones into wood chips which could be used as part of a landscaping project.
In case your tree was struck by lightning, there's a chance that it may fall and cause some considerable damage to your property. For that to not happen, your service provider will come to you, assess what exactly they're going to do and do what they have to. What's good about this is that they can come to you during any time of the day, especially if it is an emergency.
A service provider won't just provide solutions to all your issues since they will also provide other options that help in keeping the foliage in as healthy a state as possible. These other options include:
· Removal – A tree could have both deep as well as far-reaching roots, therefore removing it can be quite difficult. Other than that, if you try to cut it down sans the necessary experience, it can result in getting injuries and/or even getting your property severely damaged. So why not leave this sort of job to the professionals? You'll be glad you did.
· Stump grinding – This is an excellent way to make sure that the stump that's been left behind right after one has been removed doesn't ruin your property's overall look. A professional service provider could grind that stump down and can make it look like it was never there.
· Pruning, shaping and thinning- These are only some of the things that a professional tree service provider can offer you. These are the types of services that won't just keep those trees looking healthy but look aesthetically pleasing. So, whether you only have one or you've got a whole orchard, they will be more than able to help you when you need them.