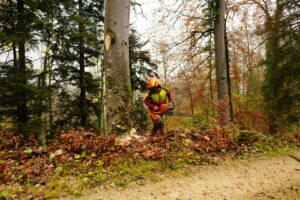 Tree Removal Service
Tree removal refers to the process of cutting down and removing a tree from a specific location. This can be done for a variety of reasons, such as to clear land for development, to remove a dead or diseased tree, or to improve the overall health of a forest. The process typically involves cutting down the tree using specialized equipment and then removing the stump and debris from the area. Tree removal can be dangerous and should only be done by trained professionals.
Tree removal, also known as tree cutting, is the process of cutting down and removing a tree from a specific location. This can be done for a variety of reasons, such as to clear land for development, to remove a dead or diseased tree, or to improve the overall health of a forest.
The process typically begins with an assessment of the tree, including factors such as its size, location, and condition. Based on this assessment, a plan is created for how the tree will be removed. The tree is then cut down using specialized equipment such as chainsaws, felling wedges, and tree-climbing gear. The tree cutter will carefully cut the tree in a way that will minimize damage to surrounding property and minimize the risk of injury to themselves and others.
After the tree is cut down, the stump is typically removed using a stump grinder. This is a machine that grinds the stump into small pieces, allowing for easy removal and disposal. The debris from the tree, including branches and leaves, is also removed from the area.
Tree removal can be dangerous and should only be done by trained professionals. Tree cutting requires knowledge of tree biology, safety and proper use of equipment and knowledge of local laws and regulations. Improper tree removal can lead to damage to property and injury to people.
Additionally, tree removal can have a significant impact on the environment and it is important to consider the ecological effects of removing a tree. For example, removing a mature tree can have a negative impact on local wildlife, and removing a tree with a large canopy can affect the microclimate of the area.
Therefore, it is important to consider the reasons for removing a tree and weigh the potential benefits and drawbacks before proceeding with the removal. In some cases, it may be more appropriate to preserve the tree or consider other options such as pruning or cabling.
Tree removal can be a complex process that requires careful consideration of several factors, including the health and condition of the tree, its location, and any potential hazards or risks it may pose. In some cases, a tree may need to be removed due to disease or damage, while in other cases it may simply be in the way of construction or other development.
Before removing a tree, it is important to consult with a certified arborist who can assess the tree's condition and determine whether or not it is safe to remove. If the tree is determined to be a hazard, it may need to be removed as soon as possible. If the tree is healthy, it may be possible to save it through pruning or other means.
When removing a tree, it is important to use proper techniques and equipment to ensure that the tree is taken down safely and without causing damage to surrounding property. This may include using a crane or other specialized equipment to remove the tree in sections, or using a tree spade to dig up the tree and transplant it elsewhere.
After the tree is removed, it is important to properly dispose of the debris, which may include chipping or mulching the wood, or taking it to a landfill. Additionally, it is important to consider what will be planted in place of the removed tree, as well as the overall impact on the surrounding ecosystem.
Overall, tree removal is a serious decision that should not be taken lightly. It is important to consult with professionals, consider the potential risks and benefits, and have a plan in place for removing the tree safely and responsibly.
Tree Removal Services, Relocation and Stump Grinding
Another reason for tree removal services professionals is when you want to transfer a tree from one location to another. Let us say you want to bring with you your tree from your old home to your new home. This is possible but only the experts can handle this job. A lot of homeowners do this project on their own and end up with two things: dead tree or injured owner. To avoid these two concerns, you have to let the specialists handle the relocation.
Another service called stump grinding is also a job for tree removal services companies. There are times when old trees fall or you may have managed to cut your true but the stump and the roots are still embedded. This cannot be removed in one, two or more sessions. You need skilled people to grind the stump and make the lot area plantable by another tree and some plants once again.
Do it yourself approach. You can count on your own means/resources by seeking the help of your husband, other family members, and friends. You probably have a friend who has a chainsaw, a truck that lift tree limbs, and other equipment that can be used in removing trees.
If the tree is over power lines, you can ask for a tree removal service from power line companies and they will do the job for you.
Seek the help of your municipality. Your municipal can provide you a free tree removal service courtesy of the municipal government itself.
Advertise a tree removal in the paper. There could be somebody out there that can get rid the tree for you and take the tree for himself.
Seek the help of a logger. Your local area will probably have loggers who are willing to do the tree removal for you.
Trees can be described as a blessing. It provides beauty to your property, shade against sunlight and cool air especially during summer. Trees are also valuable to the environment. That is why laws have been created against unnecessary tree cutting.
Environmentalists continue to support illegal tree removal.
Ornamental trees add magnificence to your landscape Nonetheless, it is necessary to cut down trees under several circumstances. Trees that have wasted should be taken away from your property. It may also be necessary to prune trees if these attract unwanted animals or rodents to your homes. Dead leaves, sticks and larger boughs that have rotted can cause a lot of inconvenience to you. The roots of trees can cause crevices in the flooring and walls. It can destroy or damage pipelines and other utilities.
Trees that grow too high may stretch towards electrical cables and cause problems. Tree branches can also obstruct views. In short, tree removal is needed when these situations occur. Homeowners may be compelled to take away trees to make way for a particular construction project. You have the option to cut down unwanted trees provided you have the expertise and equipment. Otherwise, get the services of professional tree removal services. These companies will give the service you like for a minimal cost.
The process of cutting trees is a complicated task. It has to be carried out by professionals who can cut down trees without destroying any structures. The task is more dangerous if the trees stand near electrical posts and wires. Trees located near edifices and fences are not easy to remove while those located in open spaces are easier to remove. Costs depend on the tallness, thickness, form and quantity of branches.
Expert cutters know how to take care of cutting timber. These service providers do not simply cut a tree without a plan. Measurements have to be taken at the start so that the falling log does not hit any person, house, vehicle or electric post and wires. Trees should be cut at the correct angle so it goes down on the proper direction.
Stump removal is also difficult. It calls for the work of experts to avoid damages. Tree cutting services know how to operate complicated gear such as cranes, special ladders and ropes. These people also consider the safety factor and disease control aspects so you can be assured of a complete service even if you have to spend some money.
Picking the Right Professionals
Look for crews with ample experience in years, with valid certifications and proper studies. Check for customer feedbacks and those people who were satisfied by their work. Compare prices between companies on top of the mentioned requisites of these tree removal services companies. Then, pick the right group for your needs.
At times a tree removal service is needed to prevent injuries from broken trees. If you think your home needs a hazardous tree removal service don't wait until it's too late. Contact your local tree care professionals today to learn more about tree care and how it affects your home.
{ "@context":"https://schema.org", "@type":"WebPage", "headline":"Tree Removal Service", "url":"https://truetreeservices.com/tree-removal-service/", "about":
[{"@type": "thing", "name": "glasgow", "sameAs": ["https://en.wikipedia.org/wiki/Glasgow", "https://www.google.com/search?q=glasgow&kgmid=/m/0hyxv"]}, {"@type": "thing", "name": "stump", "sameAs": ["https://en.wikipedia.org/wiki/Tree_stump", "https://www.google.com/search?q=stump&kgmid=/m/0d9wys"]}, {"@type": "thing", "name": "price", "sameAs": ["https://en.wikipedia.org/wiki/Price", "https://www.google.com/search?q=price&kgmid=/m/01d_1l"]}, {"@type": "thing", "name": "surgeon", "sameAs": ["https://en.wikipedia.org/wiki/Surgeon", "https://www.google.com/search?q=surgeon&kgmid=/m/02y_93f"]}, {"@type": "thing", "name": "risk", "sameAs": ["https://en.wikipedia.org/wiki/Risk", "https://www.google.com/search?q=risk&kgmid=/m/06d5f"]}, {"@type": "thing", "name": "tree", "sameAs": ["https://en.wikipedia.org/wiki/Tree", "https://www.google.com/search?q=tree&kgmid=/m/07j7r"]}, {"@type": "thing", "name": "debris", "sameAs": ["https://en.wikipedia.org/wiki/Debris", "https://www.google.com/search?q=debris&kgmid=/m/0415f6"]}, {"@type": "thing", "name": "tunbridge wells", "sameAs": ["https://en.wikipedia.org/wiki/Royal_Tunbridge_Wells", "https://www.google.com/search?q=tunbridge+wells&kgmid=/m/01z2ts"]}, {"@type": "thing", "name": "aberdeen", "sameAs": ["https://en.wikipedia.org/wiki/Aberdeen", "https://www.google.com/search?q=aberdeen&kgmid=/m/0rng"]}],
"mentions":
[{"@type": "thing", "name": "pruning", "sameAs": ["https://en.wikipedia.org/wiki/Pruning", "https://www.google.com/search?q=pruning&kgmid=/m/02dj6v"]}, {"@type": "thing", "name": "grinders", "sameAs": ["https://en.wikipedia.org/wiki/Grinding_(abrasive_cutting)", "https://www.google.com/search?q=grinders&kgmid=/m/04153t_"]}, {"@type": "thing", "name": "arborists", "sameAs": ["https://en.wikipedia.org/wiki/Arborist", "https://www.google.com/search?q=arborists&kgmid=/m/01v000"]}, {"@type": "thing", "name": "loler", "sameAs": ["https://en.wikipedia.org/wiki/Lifting_Operations_and_Lifting_Equipment_Regulations_1998", "https://www.google.com/search?q=loler&kgmid=/m/0g9sxzh"]}, {"@type": "thing", "name": "roads", "sameAs": ["https://en.wikipedia.org/wiki/Road", "https://www.google.com/search?q=roads&kgmid=/m/06gfj"]}, {"@type": "thing", "name": "safety", "sameAs": ["https://en.wikipedia.org/wiki/Safety", "https://www.google.com/search?q=safety&kgmid=/m/01lh7h"]}, {"@type": "thing", "name": "harness", "sameAs": ["https://en.wikipedia.org/wiki/Climbing_harness", "https://www.google.com/search?q=harness&kgmid=/m/01fmz_"]}, {"@type": "thing", "name": "stump grinding", "sameAs": ["https://en.wikipedia.org/wiki/Stump_grinder", "https://www.google.com/search?q=stump+grinding&kgmid=/m/0d9w_j"]}, {"@type": "thing", "name": "emergency", "sameAs": ["https://en.wikipedia.org/wiki/Emergency", "https://www.google.com/search?q=emergency&kgmid=/m/025rvy6"]}, {"@type": "thing", "name": "hedge", "sameAs": ["https://en.wikipedia.org/wiki/Hedge", "https://www.google.com/search?q=hedge&kgmid=/m/066wwp"]}, {"@type": "thing", "name": "sapling", "sameAs": ["https://en.wikipedia.org/wiki/Tree", "https://www.google.com/search?q=sapling&kgmid=/m/07j7r"]}, {"@type": "thing", "name": "wood", "sameAs": ["https://en.wikipedia.org/wiki/Wood", "https://www.google.com/search?q=wood&kgmid=/m/083vt"]}, {"@type": "thing", "name": "surgery", "sameAs": ["https://en.wikipedia.org/wiki/Surgery", "https://www.google.com/search?q=surgery&kgmid=/m/0bh77d7"]}, {"@type": "thing", "name": "waste", "sameAs": ["https://en.wikipedia.org/wiki/Waste", "https://www.google.com/search?q=waste&kgmid=/m/0g16hj"]}, {"@type": "thing", "name": "tree surgeons", "sameAs": ["https://en.wikipedia.org/wiki/Arborist", "https://www.google.com/search?q=tree+surgeons&kgmid=/m/01v000"]}, {"@type": "thing", "name": "risk assessment", "sameAs": ["https://en.wikipedia.org/wiki/Risk_assessment", "https://www.google.com/search?q=risk+assessment&kgmid=/m/01g0zx"]}, {"@type": "thing", "name": "tree", "sameAs": ["https://en.wikipedia.org/wiki/Tree", "https://www.google.com/search?q=tree&kgmid=/m/07j7r"]}, {"@type": "thing", "name": "surcharge", "sameAs": ["https://en.wikipedia.org/wiki/Fee", "https://www.google.com/search?q=surcharge&kgmid=/m/03fk6m"]}] }