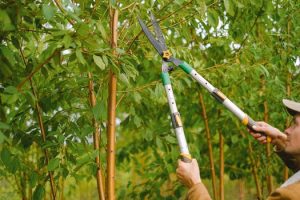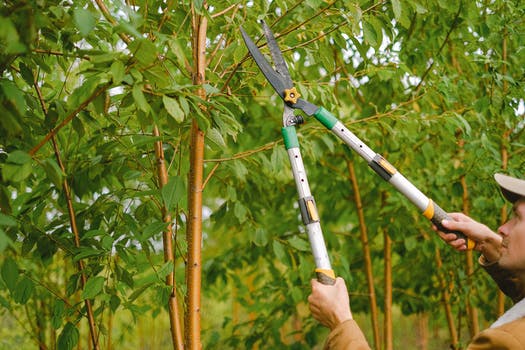 Landscaping Trees
To decide which types of landscape trees are best for your yard, you have to think in terms of the different seasons of the year. Begin by looking at those that are valued for their spring display and end with those trees that offer visual interest in winter. The goal is not simply to have a collection of great specimens in the yard, but rather to have at least one specimen per season that will add pizzazz to your landscaping.
Landscaping Trees for Spring
Magnolia Trees
Spring is for flowers. You have the rest of the year to fuss over the foliage of a tree, the novelty of a tree's bark, or the pattern in which its branches grow. But when the snow recedes, and life returns, you want color—and lots of it. That is one reason why you can forgive the glorious golden chain tree (Laburnum × watereri) for being a one-hit-wonder. Its critics point out that it is useless outside of that short period of time during the spring season in which it blooms. But nothing furnishes color quite like flowers, whether annuals or perennials, shrubs or trees. Any well-planned yard will contain at least one flowering landscape tree of exceptional beauty. Magnolia trees (Magnolia spp.) are among the showiest specimens. While star magnolias often bloom earlier, saucer magnolias provide a larger bloom.
Apple Trees
You do not have to be a farmer to want to grow apple trees (Malus spp.) in your yard. It is about more than just fruit. Apple trees are beautiful bloomers in their own right. The fruit is a bonus. If you do not care about growing edible fruit, then crabapples will serve your purposes better. A type with rosy-red flowers that reaches a height of 20 to 25 feet is Malus x 'Centzam' or Centurion, which can be grown in zones 4 to 8.
Dogwood Trees
You will likely want more than just flowering landscape trees that provide a floral extravaganza in spring. Fortunately, sometimes you get a two-for-one deal (or better) in landscaping. In this case, that means versatile specimens that earn their keep during more than just one of the four seasons. Dogwood trees (Cornus florida and Cornus kousa) offer such a deal: blooms for spring, colorful foliage for fall, berries to attract wild birds in winter, and an interesting branching pattern year-round.
Landscaping Trees for Summer
Shining the sunlight
Japanese Maple Trees
Some Japanese maples (Acer palmatum) are very versatile, too, but in a different way. They are great not only in autumn but also during the summer season. They display the vibrant red color we associate with fall foliage when most other trees still bear green leaves.
Maidenhair Trees
Maidenhair trees (Ginkgo biloba) are very delightful in both summer and fall due to the delicate and interesting shape of their leaves. They are mostly all green in the summer and all golden in the fall.
Gingko tree with yellow and green leaves
Landscaping Trees for Fall
Sugar Maple Trees
The Japanese maples may seem somewhat precocious, giving you fall colors in the summer. But some maples native to North America or Europe are equally beautiful as autumn trees, and they are larger. For example, the great size of the sugar maple (Acer saccharum) allows the tree to fulfill another task of landscape trees: providing shade in summer. The imposing dimensions of these plants (80 feet or more in height, with a spread of up to about 60 feet) also help accentuate their fall color. Even on a cloudy fall day, maples can light up the yard like giant torches.
Katsura Trees
But bigger isn't always better. A big tree can overwhelm a small yard and actually pose a danger to its inhabitants. A smaller tree is usually better suited to such a yard. Katsura tree (Cercidiphyllum japonicum) is one such choice. The 'Rotfuchs' cultivar is one of the best for foliage color. Standing 30 feet tall (with a spread of 16 feet), it bears purplish-bronze leaves in spring, greenish-bronze leaves in summer, and orangey-bronze fall foliage.
Red Maple Trees
The problem with the wild red maple trees (Acer rubrum) is that their fall leaves do not always turn out red. If you want a color that you can count on, select a cultivar, like 'Autumn Blaze.' Maples do not have a monopoly on autumn colors; there are many types of trees that offer autumn splendor.
Landscaping Trees for Winter
Close up of Blue spruce (Picea pungens)
Blue Spruce Trees
It is clear that landscape trees play a role in providing visual interest in the yard for spring, summer, and fall. Winter is tougher. When the fall foliage is gone, many yards are left looking drab. But if you have selected your trees wisely, then, when Old Man Winter darkens your doorstep, it is time for your evergreen trees to shine. Take your cue from the holiday season and plant those Christmas classics, the blue spruce trees (Picea pungens).
Dwarf Alberta Spruce Trees
Also popular as an evergreen tree is another kind of spruce, the dwarf Alberta spruce (Picea glauca 'Conica'). You will often see them used in pairs to flank the entryway to a house for a formal look that strives for balance. Because dwarf Alberta spruce trees will remain relatively small for a number of years, people sometimes treat them (at least initially) as container plants.
Three spruce with dense foliage that resemble dwarfs
Arborvitae Trees
Arborvitae (Thuja occidentalis) does more than just look pretty year-round. This evergreen is widely planted to create living wall privacy fences to screen you from the prying eyes of nosy neighbors. If you are looking for something of intermediate size, try the North Pole arborvitae cultivar.
Arborvitae trees
Nellie R. Stevens Holly
Another tree or shrub that offers winter interest and is planted to form privacy screens is the holly (Ilex spp.), including the Nellie R. Stevens holly. This one is evergreen, too, but with a twist: It is considered a broadleaf evergreen.
Nellie Stevens Holly
Birch Trees
Not all landscape trees planted for winter interest bear evergreen foliage. Some just have interesting branching patterns or an unusually pleasing bark. Birches (Betula spp.) are examples of landscape trees with the latter quality—bark that peels into leathery, paper-like plates.
Some landscaping ideas
1. Well-Maintained Garden Landscape
Pine garden with mix of evergreen shrubs, annuals and perennial flowers in a beautiful national park.
Well-groomed vibrant green grass, seasonal plants, and variegated trees come together to create a stunning landscape. Well thought out landscape designs are appreciated for their creative beauty and the way the plants just seem to tell a story. The pine trees are a great ornamental accent to the space.
2. River Companions
Ornamental japanese-style garden featuring bonsai japanese maples, silver birch surrounded by tall leylandi cypress conifer hedge forming a dense evergreen barrier
Winding rivers and streams carve intriguing patterns through the land. One of the best ways to accentuate the natural flowing pattern is through the use of pine trees and other vegetation. With how many different species of pine trees there are, you're sure to find the perfect ones for your landscape.
3. Line A Walkway
Oleander bushes and pine trees in mediterranean garden
Lining a walkway with pine trees and other evergreens ensures that the area is constantly full of new life and an abundance of lush color. Pine trees can have needles that range in color from vibrant greens to soothing blues. All these color options prevent any sense of boredom in the landscape!
4. Poolside Treasures
Large rectangular swimming pool with pine trees on the side against the background of the ocean
A palm tree is probably the typical tree you think of when it comes to poolside plants. However, pine trees shouldn't be overlooked! They'll add a nice pop and accentuate the pool well. With their evergreen leaves, you'll never go a day without shade and a gorgeous tree to look at.
In a setting like this, the pine trees also serve as a partial wind-blocking wall.
5. Pine Tree Assortment
Landscape with decorative bushes and pines on a lawn
For a texture-rich landscape, use an assortment of pine trees all around the area. Dwarf pine trees, shrub-like pine trees, sky-reaching pine trees and more. Their various green tones are eye-catching in the landscape.
6. Dwarf Evergreens
Alpine garden
If you love the texture and color that pine trees provide but don't necessarily want super tall trees in your landscape, then dwarf varieties are for you. There is still a large assortment of dwarf varieties, so you won't be limited in your planting options whatsoever.
7. Front Yard Accent
View of a pine tree on backyard in a sunny day
One easy way to landscape your front yard is by planting a large pine tree. It serves as a show-stopping centerpiece in the yard since it can't be missed. Surround your yard with other pine trees to increase the overall aesthetic.
{ "@context":"https://schema.org", "@type":"WebPage", "headline":Landscaping Trees", "url":"https://truetreeservices.com/landscaping-trees/", "about":
[{"@type": "thing", "name": "flowers", "sameAs": ["https://en.wikipedia.org/wiki/Flower", "https://www.google.com/search?q=flowers&kgmid=/m/0c9ph5"]}, {"@type": "thing", "name": "soil", "sameAs": ["https://en.wikipedia.org/wiki/Soil", "https://www.google.com/search?q=soil&kgmid=/m/09dv7"]}, {"@type": "thing", "name": "agm", "sameAs": ["https://en.wikipedia.org/wiki/Annual_general_meeting", "https://www.google.com/search?q=agm&kgmid=/m/02ly_x"]}, {"@type": "thing", "name": "foliage", "sameAs": ["https://en.wikipedia.org/wiki/Leaf", "https://www.google.com/search?q=foliage&kgmid=/m/09t49"]}, {"@type": "thing", "name": "pink", "sameAs": ["https://en.wikipedia.org/wiki/Dianthus", "https://www.google.com/search?q=pink&kgmid=/m/01xt1_"]}, {"@type": "thing", "name": "fruits", "sameAs": ["https://en.wikipedia.org/wiki/Fruit", "https://www.google.com/search?q=fruits&kgmid=/m/0fp_scn"]}, {"@type": "thing", "name": "landscape", "sameAs": ["https://en.wikipedia.org/wiki/Landscape", "https://www.google.com/search?q=landscape&kgmid=/m/025s3q0"]}, {"@type": "thing", "name": "bark", "sameAs": ["https://en.wikipedia.org/wiki/Bark_(botany)", "https://www.google.com/search?q=bark&kgmid=/m/0btxzm"]}, {"@type": "thing", "name": "wildlife", "sameAs": ["https://en.wikipedia.org/wiki/Wildlife", "https://www.google.com/search?q=wildlife&kgmid=/m/01280g"]}, {"@type": "thing", "name": "landscaping", "sameAs": ["https://en.wikipedia.org/wiki/Landscaping", "https://www.google.com/search?q=landscaping&kgmid=/m/025sv9y"]}, {"@type": "thing", "name": "rhs", "sameAs": ["https://en.wikipedia.org/wiki/Royal_Horticultural_Society", "https://www.google.com/search?q=rhs&kgmid=/m/0fsmj"]}, {"@type": "thing", "name": "moisture", "sameAs": ["https://en.wikipedia.org/wiki/Moisture", "https://www.google.com/search?q=moisture&kgmid=/m/02t59k"]}, {"@type": "thing", "name": "evergreen", "sameAs": ["https://en.wikipedia.org/wiki/Evergreen", "https://www.google.com/search?q=evergreen&kgmid=/m/0hlzc"]}, {"@type": "thing", "name": "shrubs", "sameAs": ["https://en.wikipedia.org/wiki/Shrub", "https://www.google.com/search?q=shrubs&kgmid=/m/0gqbt"]}, {"@type": "thing", "name": "flowering", "sameAs": ["https://en.wikipedia.org/wiki/Flower", "https://www.google.com/search?q=flowering&kgmid=/m/0c9ph5"]}, {"@type": "thing", "name": "usda", "sameAs": ["https://en.wikipedia.org/wiki/United_States_Department_of_Agriculture", "https://www.google.com/search?q=usda&kgmid=/m/0jbhs"]}, {"@type": "thing", "name": "trees", "sameAs": ["https://en.wikipedia.org/wiki/Tree", "https://www.google.com/search?q=trees&kgmid=/m/07j7r"]}, {"@type": "thing", "name": "pruning", "sameAs": ["https://en.wikipedia.org/wiki/Pruning", "https://www.google.com/search?q=pruning&kgmid=/m/02dj6v"]}],
"mentions":
[{"@type": "thing", "name": "sloes", "sameAs": ["https://en.wikipedia.org/wiki/Prunus_spinosa", "https://www.google.com/search?q=sloes&kgmid=/m/029djm"]}, {"@type": "thing", "name": "elderflower", "sameAs": ["https://en.wikipedia.org/wiki/Sambucus", "https://www.google.com/search?q=elderflower&kgmid=/m/01c2vn"]}, {"@type": "thing", "name": "elder", "sameAs": ["https://en.wikipedia.org/wiki/Sambucus", "https://www.google.com/search?q=elder&kgmid=/m/01c2vn"]}, {"@type": "thing", "name": "alder", "sameAs": ["https://en.wikipedia.org/wiki/Alnus_glutinosa", "https://www.google.com/search?q=alder&kgmid=/m/028j8m"]}, {"@type": "thing", "name": "acer palmatum", "sameAs": ["https://en.wikipedia.org/wiki/Acer_palmatum", "https://www.google.com/search?q=acer+palmatum&kgmid=/m/065dyw"]}, {"@type": "thing", "name": "prunus spinosa", "sameAs": ["https://en.wikipedia.org/wiki/Prunus_spinosa", "https://www.google.com/search?q=prunus+spinosa&kgmid=/m/029djm"]}, {"@type": "thing", "name": "crepe myrtle", "sameAs": ["https://en.wikipedia.org/wiki/Lagerstroemia", "https://www.google.com/search?q=crepe+myrtle&kgmid=/m/01z7b_"]}, {"@type": "thing", "name": "blackthorn", "sameAs": ["https://en.wikipedia.org/wiki/Prunus_spinosa", "https://www.google.com/search?q=blackthorn&kgmid=/m/029djm"]}, {"@type": "thing", "name": "silver birch", "sameAs": ["https://en.wikipedia.org/wiki/Betula_pendula", "https://www.google.com/search?q=silver+birch&kgmid=/m/029hl2"]}, {"@type": "thing", "name": "japanese maple", "sameAs": ["https://en.wikipedia.org/wiki/Acer_palmatum", "https://www.google.com/search?q=japanese+maple&kgmid=/m/065dyw"]}, {"@type": "thing", "name": "lagerstroemia indica", "sameAs": ["https://en.wikipedia.org/wiki/Lagerstroemia_indica", "https://www.google.com/search?q=lagerstroemia+indica&kgmid=/m/02q1bdn"]}, {"@type": "thing", "name": "hazel", "sameAs": ["https://en.wikipedia.org/wiki/Corylus_avellana", "https://www.google.com/search?q=hazel&kgmid=/m/02g1lw"]}, {"@type": "thing", "name": "sweet cherry", "sameAs": ["https://en.wikipedia.org/wiki/Prunus_avium", "https://www.google.com/search?q=sweet+cherry&kgmid=/m/06lqtp"]}, {"@type": "thing", "name": "lagerstroemia", "sameAs": ["https://en.wikipedia.org/wiki/Lagerstroemia", "https://www.google.com/search?q=lagerstroemia&kgmid=/m/01z7b_"]}, {"@type": "thing", "name": "california juniper", "sameAs": ["https://en.wikipedia.org/wiki/Juniperus_californica", "https://www.google.com/search?q=california+juniper&kgmid=/m/07p6lp"]}, {"@type": "thing", "name": "betula pendula", "sameAs": ["https://en.wikipedia.org/wiki/Betula_pendula", "https://www.google.com/search?q=betula+pendula&kgmid=/m/029hl2"]}, {"@type": "thing", "name": "alnus glutinosa", "sameAs": ["https://en.wikipedia.org/wiki/Alnus_glutinosa", "https://www.google.com/search?q=alnus+glutinosa&kgmid=/m/028j8m"]}, {"@type": "thing", "name": "rhs", "sameAs": ["https://en.wikipedia.org/wiki/Royal_Horticultural_Society", "https://www.google.com/search?q=rhs&kgmid=/m/0fsmj"]}, {"@type": "thing", "name": "sambucus", "sameAs": ["https://en.wikipedia.org/wiki/Sambucus", "https://www.google.com/search?q=sambucus&kgmid=/m/01c2vn"]}, {"@type": "thing", "name": "alnus", "sameAs": ["https://en.wikipedia.org/wiki/Alder", "https://www.google.com/search?q=alnus&kgmid=/m/0pgw"]}, {"@type": "thing", "name": "hazelnuts", "sameAs": ["https://en.wikipedia.org/wiki/Corylus_avellana", "https://www.google.com/search?q=hazelnuts&kgmid=/m/02g1lw"]}, {"@type": "thing", "name": "juniperus californica", "sameAs": ["https://en.wikipedia.org/wiki/Juniperus_californica", "https://www.google.com/search?q=juniperus+californica&kgmid=/m/07p6lp"]}, {"@type": "thing", "name": "japanese cedar", "sameAs": ["https://en.wikipedia.org/wiki/Cryptomeria", "https://www.google.com/search?q=japanese+cedar&kgmid=/m/028hnb"]}, {"@type": "thing", "name": "wild cherry", "sameAs": ["https://en.wikipedia.org/wiki/Prunus_avium", "https://www.google.com/search?q=wild+cherry&kgmid=/m/06lqtp"]}, {"@type": "thing", "name": "corylus", "sameAs": ["https://en.wikipedia.org/wiki/Hazel", "https://www.google.com/search?q=corylus&kgmid=/m/023cv1"]}, {"@type": "thing", "name": "california lilacs", "sameAs": ["https://en.wikipedia.org/wiki/Ceanothus", "https://www.google.com/search?q=california+lilacs&kgmid=/m/02kk03"]}] }