Tree Services Millcreek Utah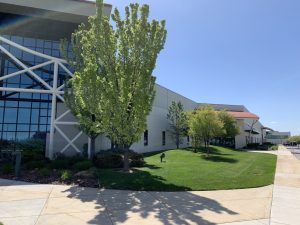 Tree Services Millcreek Utah
Tree services refer to a range of services related to the care and maintenance of trees. These services can include tree planting, pruning, shaping, cabling and bracing, fertilization, pest and disease management, and tree removal. Tree planting is the process of planting a new tree in a specific location. This can be done for various reasons, such as replacing a tree that has been removed, adding shade or beauty to a property, or improving the environment. Pruning is the process of removing dead, diseased, or damaged branches from a tree. This can be done for various reasons, such as to improve the tree's overall health, remove branches that are interfering with power lines or buildings, or rove the tree's appearance. Shaping is the process of trimming and pruning a tree to give it a specific shape. This can be done for aesthetic reasons or to improve the tree's overall health. Cabling and bracing is the process of providing support to a tree by installing cables and/or braces. This can be done to help support a tree that is at risk of falling over, or to help support a tree that has been damaged by severe weather.
Pest and disease management is the process of identifying and treating pests and diseases that are affecting a tree. This can be done to improve a tree's overall health or to prevent the spread of pests or diseases to other trees. Tree removal is the process of cutting down and removing a tree from a property. This can be done for a variety of reasons, such as to remove a tree that is dead or dying, to remove a tree that is causing damage or danger, or to clear land for development.
It's important to note that tree services should be performed by licensed, trained professionals to avoid any damage to the tree or property, and also to ensure safety.
Tree services refer to a variety of services related to the care and maintenance of trees. These services can include tree pruning, tree removal, tree planting, stump grinding, and more. Tree services are typically provided by professional arborists, who are trained and certified in the proper care and maintenance of trees. Some tree services also include landscaping services, such as lawn care and garden maintenance.
Trees In Millcreek, Ut
Trees are the cornerstone of any outdoor space. From residences to commercial properties we all agree that Millcreek tree service maintenance is important to keep trees healthy and beautiful.
Not only do trees have a key role to play in the aesthetics and functionality of any property, they are important to the environment, as well.
This is why our trees need to be maintained effectively. And, to make sure they are properly looked after, it is best to hire a professional tree service like Hidden Oak Tree Care.
We have been providing tree service in Millcreek and surrounding areas for years and can keep your trees healthy and beautiful all year long.
We work with home and company owners along the Wasatch front keeping their trees healthy, trimmed and full of life. We also offer tree removal in even the toughest locations using our cranes and high tech. equipment. Here are just a few of the tree services we offer.
TREE REMOVAL
Tree removal is serious business. It involves science, calculation, expertise, and specialist equipment. At Hidden Oak Tree Care we know how to remove the tree from a property efficiently, effectively, and safely. Our crews are trained with safety in mind and work to minimize any damage to property while removing your trees safely.
TREE TRIMMING
Tree trimming is a very important element of tree care. It helps maintain the health and visual appeal of the trees and ensures they in no way become a safety hazard. Done right, tree trimming can add significant aesthetic appeal to a property and also help ensure the trees develop a strong structure and flourish for years to come.
STUMP GRINDING
Tree removal is always followed by the issue of how to deal with the left-behind stump.
Stump grinding is a popular method of stump removal as it removes the unsightly stump, but does not leave a gaping hole or damage surrounding property. Stump grinding involves using a stump grinder to grind the stump to ground level or just below.
This process requires specialized equipment and expertise to be done effectively, which is why it is best done by a professional so that dangerous accidents and injuries are avoided.
STORM DAMAGE CLEANUP
Often, storms leave a lot of destruction in their wake and trees are no exception.
After a storm, many properties require storm damage cleanup services, which involve removing fallen trees or dealing with compromised trees, fallen branches, and the like.
Our Utah weather can be extreme and unpredictable. When a bad storm hits it can be comforting to know that a tree service company like Hidden Oak Tree care is available 24/7 to provide storm damage clean up to Millcreek residents.
If you are located anywhere in or near Weber, Davis, Salt Lake, or Utah County, and need tree care of any kind, don't hesitate to contact us. There are numerous reasons that make us the best choice:
Professional Local Experts: We have been operating in these areas for a while now, which makes us particularly well-versed in understanding and addressing the various issues most commonly faced by local plants and trees. Additionally, we are a licensed business, staffed with qualified, dedicated experts, committed to delivering the highest level of customer service.
Certified Arborists: We take our commitment to tree care seriously, which is why we have certified arborists, some of the best in the business, on board. They are there to provide expert assessment, consultation, and solutions to the various, wide-ranging issues the trees and plant life may be facing. This in turn ensures the most effective tree care for the trees on your property.
Comprehensive Range of Services: We are a one-stop-shop tree service. This means you get comprehensive care for your trees instead of having to engage the services of several tree service providers for your various needs.
We Cater To Everything Trees: Whether you are a residential or commercial property, have a simple or complex problem, a small-scale or large-scale issue, we have you covered. We have the newest specialized equipment of varying sizes, capable of catering to all kinds of issues, and we have a team of technicians who are experts in operating the machinery effectively and in executing their task of providing high-quality tree service.
Positive Customer Reviews: Who better to tell you about our quality of service than those who have already experienced it? The number of positive customer reviews you will find about us on Google and Facebook are all a testament to the quality of our service and commitment to our clients' satisfaction.
Professionals in Millcreek, UT, is the key to maintaining beautiful and healthy trees in your yard and reaping the various benefits. Trees require continual maintenance to keep your yard safe, inviting, and enjoyable year-round. If you are unsure about the options to deal with overgrown, damaged, diseased, or fallen trees, enlist the services of a professional. Experienced, trained, and certified arborists employed by tree service companies specialize in all aspects of tree maintenance, including ensuring proper tree health, emergency tree removal, tree pruning, cabling and bracing, stump removal, and land clearing.
Tree service professionals also provide consultation for providing valuable information to educate customers and offer them the best solution for their tree planting and care needs. They are equipped with advanced machines, tools, and equipment to assist with dead or storm-damaged trees, broken limbs, and unsightly stumps. They have the knowledge and training regarding the latest spraying and fertilizing techniques and pest and soil treatments essential to preserve the trees' strength, appearance, and value.
Millcreek is a city in Salt Lake County in Utah state in the United States. Millcreek is a part of the Salt Lake City Metropolitan Statistical Area and was incorporated on 28th December 2016. The population of Millcreek was 63,680, according to the 2020 Census.
The city enjoys a humid subcontinental climate. The summers here are hot and dry, and winters are cold to severely cold, snowy, and partly cloudy. Millcreek is considered one of the best neighborhoods around Salt Lake City.
If you want to explore Millcreek, some of the best places to visit are Millcreek Canyon, Sugar House Park, and the Utah Museum of Fine Arts. Enjoy activities like snowboarding, mountain biking, river rafting, hiking, hot air balloon rides, and other outdoor adventures. Do not forget to enjoy live music and great food in the various restaurants and cafes.
Millcreek, UT Tree Service Experts You Can Trust
South Valley Tree is the company to trust in Millcreek, UT, for keeping your trees beautiful and healthy and your yard looking great round the year. We have earned a solid reputation by providing top-class, professional tree services to each one of our customers. Armed with years of experience, our team is courteous, knowledgeable, and thorough. Our crew is well-trained to efficiently handle small and large tree jobs and emergency tree care. We believe in providing the best tree services at a great price. After finishing our work, we also take care of the clean-up.
{ "@context":"https://schema.org", "@type":"WebPage", "headline":"Tree Services Millcreek Utah", "url":"https://truetreeservices.com/tree-services-millcreek-utah/", "about":
[{"@type": "thing", "name": "utah", "sameAs": ["https://en.wikipedia.org/wiki/Utah", "https://www.google.com/search?q=utah&kgmid=/m/07srw"]}, {"@type": "thing", "name": "salt lake city", "sameAs": ["https://en.wikipedia.org/wiki/Salt_Lake_City", "https://www.google.com/search?q=salt+lake+city&kgmid=/m/04s909"]}, {"@type": "thing", "name": "arborist", "sameAs": ["https://en.wikipedia.org/wiki/Arborist", "https://www.google.com/search?q=arborist&kgmid=/m/01v000"]}, {"@type": "thing", "name": "tree", "sameAs": ["https://en.wikipedia.org/wiki/Tree", "https://www.google.com/search?q=tree&kgmid=/m/07j7r"]}, {"@type": "thing", "name": "landscaping", "sameAs": ["https://en.wikipedia.org/wiki/Landscaping", "https://www.google.com/search?q=landscaping&kgmid=/m/025sv9y"]}, {"@type": "thing", "name": "landscape", "sameAs": ["https://en.wikipedia.org/wiki/Landscape", "https://www.google.com/search?q=landscape&kgmid=/m/025s3q0"]}, {"@type": "thing", "name": "tree care", "sameAs": ["https://en.wikipedia.org/wiki/Tree_care", "https://www.google.com/search?q=tree+care&kgmid="]}, {"@type": "thing", "name": "millcreek", "sameAs": ["https://en.wikipedia.org/wiki/Millcreek,_Utah", "https://www.google.com/search?q=millcreek&kgmid=/m/010fs4"]}, {"@type": "thing", "name": "pruning", "sameAs": ["https://en.wikipedia.org/wiki/Pruning", "https://www.google.com/search?q=pruning&kgmid=/m/02dj6v"]}, {"@type": "thing", "name": "shrub", "sameAs": ["https://en.wikipedia.org/wiki/Shrub", "https://www.google.com/search?q=shrub&kgmid=/m/0gqbt"]}, {"@type": "thing", "name": "lake", "sameAs": ["https://en.wikipedia.org/wiki/Lake", "https://www.google.com/search?q=lake&kgmid=/m/06w433z"]}, {"@type": "thing", "name": "salt", "sameAs": ["https://en.wikipedia.org/wiki/Salt", "https://www.google.com/search?q=salt&kgmid=/m/05g0_z"]}],
"mentions":
[{"@type": "thing", "name": "xeriscape", "sameAs": ["https://en.wikipedia.org/wiki/Xeriscaping", "https://www.google.com/search?q=xeriscape&kgmid=/m/0bwnq"]}, {"@type": "thing", "name": "tree surgeon", "sameAs": ["https://en.wikipedia.org/wiki/Arborist", "https://www.google.com/search?q=tree+surgeon&kgmid=/m/01v000"]}, {"@type": "thing", "name": "arborist", "sameAs": ["https://en.wikipedia.org/wiki/Arborist", "https://www.google.com/search?q=arborist&kgmid=/m/01v000"]}, {"@type": "thing", "name": "pruning", "sameAs": ["https://en.wikipedia.org/wiki/Pruning", "https://www.google.com/search?q=pruning&kgmid=/m/02dj6v"]}, {"@type": "thing", "name": "mulch", "sameAs": ["https://en.wikipedia.org/wiki/Mulch", "https://www.google.com/search?q=mulch&kgmid=/m/027t7q"]}, {"@type": "thing", "name": "disease control", "sameAs": ["https://en.wikipedia.org/wiki/Preventive_healthcare", "https://www.google.com/search?q=disease+control&kgmid=/m/0400g4"]}, {"@type": "thing", "name": "health", "sameAs": ["https://en.wikipedia.org/wiki/Health", "https://www.google.com/search?q=health&kgmid=/m/0kt51"]}, {"@type": "thing", "name": "irrigation", "sameAs": ["https://en.wikipedia.org/wiki/Irrigation", "https://www.google.com/search?q=irrigation&kgmid=/m/0blx8"]}, {"@type": "thing", "name": "bushes", "sameAs": ["https://en.wikipedia.org/wiki/Shrub", "https://www.google.com/search?q=bushes&kgmid=/m/0gqbt"]}, {"@type": "thing", "name": "search results", "sameAs": ["https://en.wikipedia.org/wiki/Search_engine_results_page", "https://www.google.com/search?q=search+results&kgmid="]}, {"@type": "thing", "name": "lawn", "sameAs": ["https://en.wikipedia.org/wiki/Lawn", "https://www.google.com/search?q=lawn&kgmid=/m/01v327"]}, {"@type": "thing", "name": "diseases", "sameAs": ["https://en.wikipedia.org/wiki/Disease", "https://www.google.com/search?q=diseases&kgmid=/m/027x3"]}, {"@type": "thing", "name": "lawn care", "sameAs": ["https://en.wikipedia.org/wiki/Lawn", "https://www.google.com/search?q=lawn+care&kgmid=/m/01v327"]}, {"@type": "thing", "name": "salt lake", "sameAs": ["https://en.wikipedia.org/wiki/Salt_Lake_City", "https://www.google.com/search?q=salt+lake&kgmid=/m/04s909"]}, {"@type": "thing", "name": "sod", "sameAs": ["https://en.wikipedia.org/wiki/Sod", "https://www.google.com/search?q=sod&kgmid=/m/03dndv"]}, {"@type": "thing", "name": "fungi", "sameAs": ["https://en.wikipedia.org/wiki/Fungus", "https://www.google.com/search?q=fungi&kgmid=/m/03154"]}, {"@type": "thing", "name": "emergency", "sameAs": ["https://en.wikipedia.org/wiki/Emergency", "https://www.google.com/search?q=emergency&kgmid=/m/025rvy6"]}, {"@type": "thing", "name": "gardeners", "sameAs": ["https://en.wikipedia.org/wiki/Gardening", "https://www.google.com/search?q=gardeners&kgmid=/m/034v_"]}, {"@type": "thing", "name": "soil", "sameAs": ["https://en.wikipedia.org/wiki/Soil", "https://www.google.com/search?q=soil&kgmid=/m/09dv7"]}, {"@type": "thing", "name": "japanese maple", "sameAs": ["https://en.wikipedia.org/wiki/Acer_palmatum", "https://www.google.com/search?q=japanese+maple&kgmid=/m/065dyw"]}, {"@type": "thing", "name": "trees", "sameAs": ["https://en.wikipedia.org/wiki/Tree", "https://www.google.com/search?q=trees&kgmid=/m/07j7r"]}, {"@type": "thing", "name": "homeowners", "sameAs": ["https://en.wikipedia.org/wiki/Home_insurance", "https://www.google.com/search?q=homeowners&kgmid=/m/0313mp"]}, {"@type": "thing", "name": "sprinkler", "sameAs": ["https://en.wikipedia.org/wiki/Irrigation_sprinkler", "https://www.google.com/search?q=sprinkler&kgmid=/m/06krzy"]}, {"@type": "thing", "name": "bacteria", "sameAs": ["https://en.wikipedia.org/wiki/Bacteria", "https://www.google.com/search?q=bacteria&kgmid=/m/017q2"]}] }