Landscaping can be defined as an activity to change the physical appearance or landscape of an area or a piece of land. Its main goal is to make the area or land more beatific. Changing the physical appearance of an area may include cutting, growing or rearranging the plants, trees, fauna or flora i.e. the living elements. It can also, include redesigning the physical layout of the land i.e. adding ponds or fountains, elevating a piece of land; to make it look like a hill or adding different structures such as a gazebo. Landscaping may also mean adding weather controlling systems and/or lighting systems.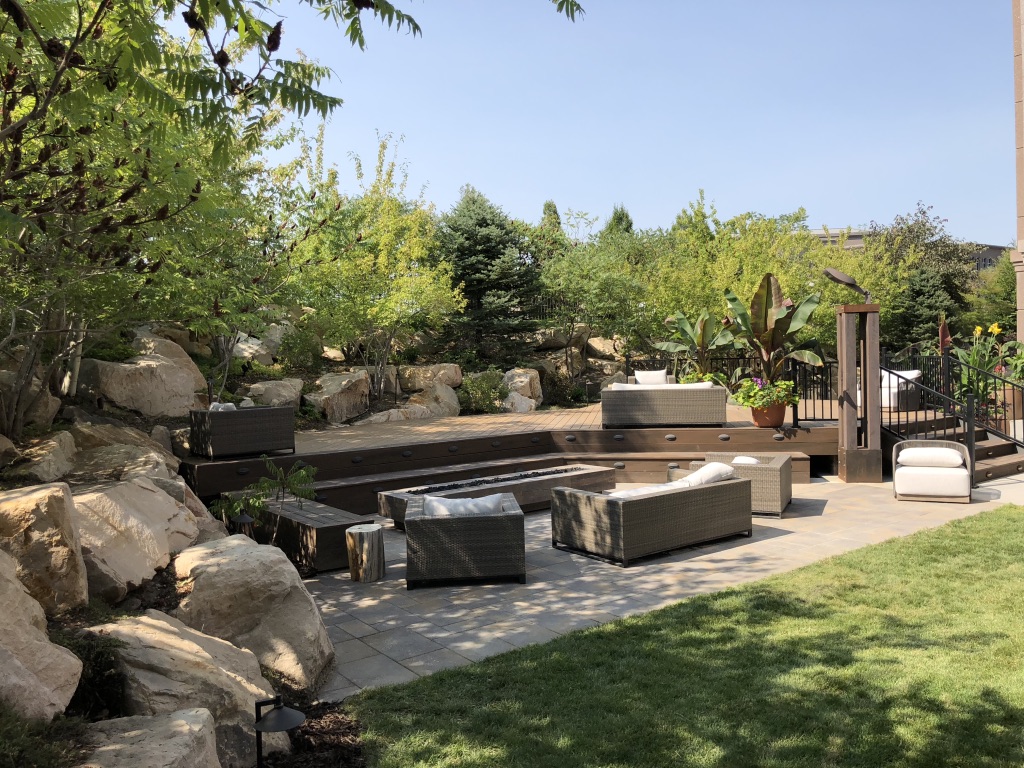 Landscape Architecture can be defined as the art of designing outdoor and indoor environments or varying sizes including aspects of environment, art, engineering, architecture, and sociology. In the urban context, one can describe landscape architecture as the creation of life between buildings. Landscape architects use small spaces in urban areas to create roof gardens, pocket parks, etc. The urban landscape design usually includes sustainable and cost-effective development of natural spaces with a lot of plants.
Usually, a landscaping architect offers consulting services to help create an ecosystem that suits your needs. However, it is important to remember that a landscape requires regular care. Hence, if your lifestyle does not permit enough time, then you can opt for ecosystems that are self-sustaining and ensure that they run seamlessly without any manual intervention. By automatically cleaning pollutants, such systems can help improve the quality of life of you and your loved ones.
Landscaping is considered, both, a science and an art. That is why, landscape architecture is a field of study and, only, people with creative imaginations can excel in this profession. Landscape architecture does not stop at physically transforming an area or a piece of land; it also includes an aspect of interior designing i.e. selecting the furniture that best complements the renovated outdoors.
Outdoor Furniture
Outdoor furniture is an important aspect of landscaping your home's outdoors. Landscaping in a nutshell is beautifying your surroundings. There is no better way to beautify your outdoors than buying quality and elegant furniture.
Pool Furniture
If you have a pool then, you probably should focus on your poolside. The poolside has the most potential to be transformed into something beautiful and elegant. All you need is a little imagination and the willingness to spend a few bucks.
Favorite Poolside Furniture
Chaise lounges are almost synonymous with a poolside. If, you have a pool, then you most definitely will have a chaise lounge. And, if you don't, then you should get one right away; you don't know what you are missing out on. Chaise lounges are low and long chairs, with the back at one end; it would be very handy if you buy low tables of the same material as the chaise. This way, you can get a great tan under the sun and enjoy a cold drink at the same time.
Patio Furniture
The "outdoors" is a broad term, which encompasses your patio, porch, verandah or poolside. No matter what kind of "outdoors", your aim is the same; to buy furniture that is elegant and makes your house beautiful.
Patio Chaise Lounges
Chaise lounges are a go-to furniture option for the outdoors. Your outdoors isn't complete without a chaise lounge. Therefore, buy a chaise lounge that is durable, strong and can withstand the changes in the weather, for example resin or wrought iron chaise lounges.
Other Patio Furniture Options
After buying a chaise lounge, you may find that your patio is still sparse; what should you buy next? The beauty in this case is, you can make your patio look like anything you may want. You can go for the Italian restaurant theme, for this you will need to buy a patio bistro set, for example a cast aluminum or a teak bistro set. Just let your imagination run wild.
Landscape architects, along with engineers and architects, design the built environment outside of buildings. That's a broad definition for a broad profession. Your front yard may have been designed by a landscape architect. Parks and trails, streetscapes, remediated brown fields, commercial, public and residential gardens and landscapes are all part of the profession.
For most site design, meaning a set of drawings a specific address, a typical set of drawings and services might include all or some of the following:
· Preliminary plans: Also called "Master Plans", this is the conceptual phase, where the elements of the landscape are planned. The shape and location of such features as walls, fences, decks, trellises, steps, paving and circulation, and major planting elements such as trees, lawns, shrub massing, and screening are fit together into a whole.
· Design development: In this phase materials are chosen such as types of paving, finishes, and in general the preliminary plan is refined.
· Construction Drawings: This can include planting, irrigation, layout, grading, drainage, and construction details for decks, trellises, fences, paving, retaining walls, etc. These are drawings that a contractor uses to construct the landscape.
· Submittals: Working with city planning and building departments and design review boards to ensure that the plans meet the requirements and that required calculations are submitted.
Cost Estimating: Providing cost estimates as needed.
· Bid Assistance: Help with choosing contractors, and preparing bid letters and contracts.
· Construction Administration: Site visits to observe construction and work with the contractor to achieve a successful landscape installation; managing contractor payments, and creating and clearing a final punch list. Designing residential retaining walls (a good example of how a licensed professional can help you): Landscape architects can design retaining walls up to 3 feet high in California. Walls over that height must have calculations by a structural engineer.
The most common reason for retaining wall failure is probably lack of drainage behind the wall. Every wall should have a bed of drain rock behind it, with some way of getting the water out-either a perforated pipe at the foundation of the wall, or weep holes at the bottom of the low side. Weeping can stain the wall, but is a better choice if there is no good place to outlet the perf pipe. Typically the drain rock and pipe are wrapped in filter fabric to keep soil from intruding.
For wood walls, the other frequent cause of failure is not setting the posts deep enough or close enough together. Posts should be as deep as the wall is high above ground and not less than 2 ft. deep. They should be spaced 4 ft. or less, and should be installed in concrete footings, with the bottom 3″ of the post extending past the footing to keep water from pooling at the bottom of the footing. Depending on which side the boards are placed, the boards are either nailed or bolted to the posts. Wood should be pressure treated, rated for earth-to-wood contact. Hardware should be stainless or hot-dipped galvanized steel. Redwood used to be a popular choice for wood walls, but the redwood available these days does not have enough rot resistance.
Other choices for materials include concrete (poured or block), segmental retaining walls such as Keystone or Versalok walls, steel I-beam posts with timber infill, or timber walls. For high walls all of these are better choices than wood. Concrete in particular is a versatile material as it can be stuccoed, colored, capped with brick or stone, and faced with brick or stone.
Reasons Why Landscape Architecture Is Important
While most people understand the benefits offered by landscape architecture, they are unsure if they need it in and around their homes. Here are reasons that will help you understand how landscape architecture can help you live a better life:
1. Helps Combat Toxicity And Other Environmental Issues
Most people are unaware of the fact that a majority of the products used at home like the furniture, upholstery, building materials, fixtures, etc., emit toxic pollutants in the environment around them. While the reasons can vary from the oxidization of heavy metals to toxic gases, the impact is the same. Of these, air pollution is the primary area of concern. With landscape architecture, you get a sustainable and efficient option to clear the environment of such toxins. With green plants in and around your home, carbon dioxide levels are always under control. Also, plants absorb toxic materials helping you maintain a healthy living space.
There are various tools that can help you balance the ecosystem in your vicinity and find indoor plants like Aloe Vera, Cacti, Ferns, etc. to clean the environment around your home. Many landscape architects also use phytoremediation techniques to remove contaminants in the soil and groundwater and revitalize them.
2. Offers Customizable And Sustainable Development Avenues
Many people think that landscape architecture is all about gardening and the planting of green plants to make the place look beautiful. However, landscape architects create garden designs using concepts of climate and ecology after a careful analysis of the surroundings. They customize solutions based on the specific surroundings of each house and target the environmental issues in the area. Every household and locality has different causes of pollutants. These causes are identified by civil engineers or landscaping architects and they select indoor and outdoor plants for cleaning the air, creating a cooling effect, absorbing toxins, and balancing the natural ecosystem. While this process can take time, it can help create a sustainable natural environment around the house and the area.
As the world embraced industrialization, factories and manufacturing plants cropped up around the world. This led to the degradation of the natural resources in the areas surrounding it. Air, water, soil, and the general habitat around these commercial spaces were contaminated and landforms faced severe damages. While the damage cannot be completely undone, landscape architecture can assist in rejuvenating the soil and cleaning the air by planting the right plants in these areas. While the regeneration of the natural ecosystem might take many years, this approach can help stop the spread of the toxins to the nearby areas and cause damages to the human body.
4. Storm Water Management
Rainwater harvesting has gained popularity around the globe as a sustainable solution for water scarcity around the globe. While rainwater harvesting is about collecting and storing rainwater rather than allowing it to run off, most of the rain manages to run off, especially from non-building surfaces. This water is called storm water. Using the right equipment and tools, storm water can be used to fight water scarcity more efficiently. Typically, the storm water is supposed to trickle into the soil and rejoin the water table below. This water table is an additional source of water for many regions. However, with many areas having concrete roads and pavements, a lot of storm water is prevented from seeping into the soil.
By using landscape architecture techniques, the soil can be loosened to help storm water find its way to the water table faster and rejuvenate the natural resources. Hence, the locality will have a natural water resource at all times.
6. Innovative Troubleshooting of Natural Environments
Most of us have heard about vertical gardens, wall garden, and other innovative ways of bringing nature into our homes and living areas. This has been made possible by innovative landscape architects constantly striving to balance modern living with environmental sustainability. In other words, landscape architects use horticulture to add biodiversity to urban design.
7. Weather Control
Since the turn of this century, climate change has been a concern for environmentalists and people around the world. In the urban areas, deforestation and excessive use of concrete has depleted the quality of air and resulted in an increase in temperature. Landscape architecture can help control the weather and dampen the impact of climate change. In urban settings, small ecosystems like rooftop gardens and pocket parks can help in purifying air and crating a cooling effect. There are many tools available that can help you find plants that can work optimally in your environment, create a virtual landscape, and check its efficiency before you implement it. As an increasing number of people start using landscape architecture, the weather around you can start getting positively impacted.
8. Outdoor Public Recreation
When you live in an urban area, public parks and outdoor spaces are the only natural retreat. If you are living in Utah, then the natural environment offers regular respite from the concrete city. Similar open places in cities can be developed to create spaces where people can relax outside their homes. In cities with tighter spaces, pocket parks, elevated parks, etc. can be developed to achieve the same result. With greener patches, air in the cities can improve and boost the well-being of its inhabitants.
9. Psycho-Social Benefits for Humans
It is believed that being in nature can help us improve our mental abilities since it calms our mind allowing it to explore the unknown. However, with constant deforestation, natural surroundings are getting harder to find. In such times, landscape architecture seems like the only solution. With technology-aided tools, architects can create pockets of nature across urban areas and breathe life into an otherwise concrete city.
10. Therapeutic Final Products
Working with nature has been known to have a calming and therapeutic effect on the human mind. The same holds true with landscape architecture. When all the planning and preparation finally comes to life, the result is blissful.
To know more about Architectural Landscape, you can contact TruCo Services for more information.