Landscaping is much more than merely planting shrubs and trees and mowing lawns. It consists of a variety of services such as sod work, installing retaining walls, driveway interlocking, and more that can help enhance your curb appeal. It can also increase the value and functionality of your property if done correctly.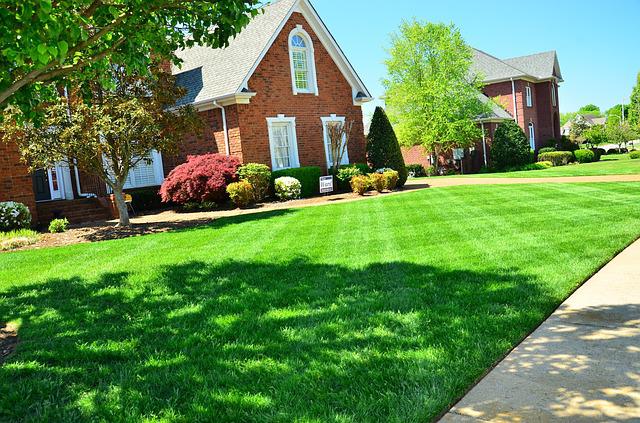 Types of Landscape Construction Services
Softscape
Softscapes typically refer to installations and landscaping services involving plants and other organic materials such as grass, annuals, perennials, shrubs, and more. It includes analyzing the architecture, planning, and determining a suitable landscape design with the help of flower bed installations, a lawn, yard or garden for residences and estates.
Softscape Features
You need to change and evolve the softscape elements as the plants grow and adapt to the changing climate and other environmental conditions. The experts working in our landscaping company recommend weekly, bi-weekly, or monthly management to maintain the overall beauty and appeal. Softscape maintenance comprises planting, weed removal, mowing, aerating, fertilizing, watering, pruning, trimming, and more. Some of the features include the following:
· Lawn and yard
· Trees, shrubs, and vines
· Accent plants and flowering plants
· Garden and flower beds
Hardscape
Hardscaping includes all types of structures and stonework, such as garden retaining walls, outdoor kitchens, barbecues, fire pits and fireplaces, patios, pool decks, fencing, and more. In addition to this, it also encompasses water features such as fountains, dry riverbeds, and waterfalls.
Hardscape Features
The non-living, solid elements of the landscape are categorized as hardscape. You can design these as part of your landscape construction plan. Hardscape materials have several effects on the environment. The porous materials used allow water to soak into the soil. Pavement and retaining walls help reduce water runoff and prevent contaminants from flowing into streams. Some popular hardscape features include the following:
Retaining Walls
You can hire experts for landscape construction to create and install beautiful and functional retaining walls. They can be made of natural stone, wood, and concrete wall blocks.
Interlocking Driveways
They are durable and aesthetically pleasing. Specialists offering landscaping services can help create creative designs for your driveway and ensure it matches the look and architecture of the property.
Stonework
High-quality stonework enhances the appearance and functionality of a property. It is low maintenance, long-lasting, and helps improve the curb appeal.
Sod Installation
Installing sod on a property helps smooth the surface and create a beautiful space. You can install it anywhere to enjoy an outdoor area for games and activities.
Benefits Of Landscape Construction
· Connect with Nature: Hiring reputable experts for landscape construction services can help you create an exceptional outdoor area. You can have a private retreat and enjoy the health benefits of nature at your home.
· Enhance Your Quality of Life: Having a well-developed and maintained landscape will allow you more time outdoors, unwinding in the beautiful backdrop. You can also use it as an entertaining space for guests and to host gatherings.
· Balancing Natural & Artificial Elements: Working with a reputable landscape company can help you create a balance between manufactured designs and natural landscapes. The specialists can help highlight the beauty of your yard by choosing the most suitable outdoor features.
· Create Functional Areas: If you have an unused backyard or a side yard, landscape construction along with adequate planning can help create a spectacular outdoor space. The landscaping specialists will assess the property and design a suitable and beautiful space.
· Defining Entertainment Areas: If you are looking to bring some order to your yard, a reputable landscaping company can help. They will be able to create areas on your property for specific activities depending on your requirements.
· Boost the Property Value: A well-planned and maintained outdoor landscape can increase property values by 5% to 12%. It is an excellent way to maximize the outdoor space and make your home more appealing to potential buyers if you plan to sell your property.
Skills Required For Landscape Construction
Landscape design and construction requires the expertise of qualified and experienced professionals. Some of the skills associated with the construction aspect of landscaping a property include the following:
· The ability to come up with reliable landscape designs and ideas.
· Work with professionals, interpret the plans made by a landscape architect, and carry out the necessary work.
· Estimate the cost and prepare quotations for a variety of projects.
· Horticultural skills that are required to come up with beautiful ideas associated with softscapes.
· Possess construction knowledge and skills, including the ability to build retaining walls, lay pavers for driveways and walkways, and other structures.
Things To Consider Before Landscape Construction
· Examine your landscape, recognize any potential problems such as inadequate soil conditions and plan accordingly.
· Consider the purpose of landscaping. It could be anything from entertaining guests, creating a play area, having a private space for relaxing, and more.
· Identify any natural pathways already present in your landscape and consider including them in your plans as is.
· Consider your needs, expectations, and budgetary concerns up-front to save time and money.
· Think about the ongoing maintenance and ask if you can meet the requirements to keep the structures in excellent condition.
· Work with a reputable landscaping construction company having professionals who can understand your needs and offer reliable advice.
Enhance Your Curb Appeal With Our Landscape Construction Services
Whether you want a garden retaining wall, stonework in patio, or any other landscape construction, TruCo Landscaping and Snow Removal is the right choice. We have the skills and expertise to understand your needs and come up with the best solutions on time and budget. We will help you create a beautiful and functional space that enhances your curb appeal and adds value to your property.
Landscaping Service – Why You Should Use a Professional
A well-maintained landscape takes a lot of forethought and hard work, especially for it to shine all year. While you might have some general knowledge such as how to apply landscape design principles or how to use landscape design to increase your home value, hiring a landscaping service can help.
Landscaping Service – Why Hire One?
Get excellent ideas that work
Since professional landscapers work with multiple clients, they understand how designs or ideas might work across varying terrain. After all, backyards face different challenges related to size, architecture, slope, and other elements. Based on similar past customer designs, a professional landscaping service will know if the ideas you want to incorporate into your yard will work or not.
Avoid landscaping pitfalls
Professionals know how to avoid the common DIY pitfalls. These mistakes can cost you time and money. For example, suppose you plant several plants and shrubs in your backyard and fail to install an irrigation or sprinkler system. In that case, you may need to redesign the entire yard to integrate the missing elements. Landscaping service experts can avoid such pitfalls, thereby getting your project done on time and within budget.
Free up your time
There is no doubt developing a yard from scratch or prepping for a new garden takes time. Additionally, figuring out how best to care for the area can be challenging. Depending on your layout, you'll need to mow the grass, water the flowers, mulch the beds, or prune the trees. Some aspects also need specialized equipment, skills, and experience. A professional landscaping service company will take care of the challenging maintenance tasks so that you enjoy your yard without any worries.
Receive expert care from a landscaping service
Professional landscaping services can diagnose and treat yard and garden issues quickly in most cases. For example, if your flowers or trees are losing leaves, professionals know the right treatments to stop further damage. Additionally, landscape professionals can advise on how to prevent these issues from occurring in the future.
Landscaping Service Considerations for Your Residential Garden Areas
Whether you are redesigning your landscape or making a few changes to tweak the existing design, there are several factors to consider before starting your project, such as:
Location
Your first step is to understand your location, including the soil type, regional climate, and topography of your site.
Plant care and maintenance
When designing a landscape plan, a good practice is to start with the end in mind. Consider the plants' maintenance needs, growth rates, and maturity sizes before selecting any plants or shrubs. Similarly, during the planting stage, ensure your plants have enough room to reach their mature size without any problems. Simplify future maintenance by planning low-maintenance landscaping from the beginning. A landscaping service will be able to help guide you through the process with ease.
Getting Help from a Landscaping Service
Hiring a professional landscaping service can help save you time and money. The right landscaping team can keep your outdoor space looking beautiful and well-maintained throughout all seasons. Additionally, a landscaper can make sure the area is functional for your family's needs.
Benefits Of Landscaping Services
Landscaping services offer a variety of benefits for both you and your property. Landscapers are often able to perform manual tasks that you cannot do, and their work can improve not only the visual appearance but also the health and resilience of your outdoor property. This will result not only in a visually beautiful and attractive property that features elements unique to you, but also a healthy and thriving outdoor space that benefits the environment and native flora and fauna of the area.
Improve Overall Appearance
One of the primary functions of a landscaping service is to boost the aesthetics of your garden and the area surrounding your home. For some, this means pruning bushes and trees and re-edging gardens to create a crisp, clean look. For others, this involves selecting beautiful and hardy plants that complement the look of a home. This type of visual detailing improves a home's curb appeal and can play a critical role if you are trying to sell your home. However, even if you plan to stay in your home for years to come, more and more studies are showing that resting in an aesthetically pleasing outdoor space can benefit you both mentally and physically.
Enhance Usage Of Outdoor Space
Not only does an improved outdoor space look appealing, but it is also a joy to inhabit. Research has even shown that outdoor spaces have multiple benefits, from improved cognitive function to stress reduction. This effect is true even if you live in the middle of a bustling metropolis and have only a small garden. Freshly mown grass creates a play space for children and pets, and new plants and flowers provide a fresh background to enjoy as you and your loved ones sit outside, enjoying the weather and scenery.
Act As A Creative Outlet
Many people use the outdoors as a respite from the stress and complications of their working lives. Landscaping is one way to embrace your creativity. With the help of a landscaping service, you can realize your creative vision and lay the groundwork for grass that will remain vibrantly green, plants that will bloom for years to come, and even ponds that thrive as their own miniature ecosystem.
Control Invasive Plants
Landscaping is not all about the visual aesthetic of your property; it also plays a critical role in the health of your environment. Landscaping mitigates the growth of invasive plants and weeds through focused care and attention to your specific soil's pH and composition. Without these harmful plants, your native foliage can thrive and grow to be robust, improving air quality, and even keeping your home safe from flooding and erosion during inclement weather.
Provide A Safe Outdoor Space
Landscaping generally focuses on the unique features of each land and the home it is joined to. By caring for your land, you can prevent potentially dangerous situations such as diseased trees falling on your home, stinging or allergen-producing plants coming into contact with your family, and even unwelcome animals taking up residence in your land. This will enable you to enjoy a beautiful and safe outdoor space that will benefit the environment and make your small section of the world more robust and thriving.
Contact The Landscaping Services Professionals
An overwhelming variety of plant options and landscaping decisions may seem intimidating, but the choices you make about them do not have to be. If you are considering how landscaping services might benefit your home, either for the first time ever or in the middle of your current outdoor projects, be sure to reach out to professionals who can help you to achieve your vision.
TruCo landscaping and snow removal would be happy to assist you in making plans for your space. Reach out to schedule an appointment to discuss your landscaping vision and determine which services are right for you.
TruCo Services is a full-service landscaping and snow removal organization that can handle every aspect of your project needs.
Our teams of professional irrigation technicians, landscapers, licensed fertilizer applicators, certified arborists, and top-notch management staff deliver quality services that you'll be proud to showcase at your home or business.