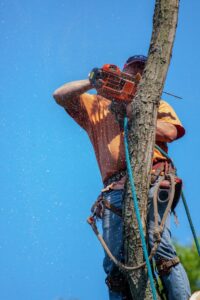 Tree Arborist Near Me
What does an Arborist do?
An arborist (or tree surgeon or tree trimmer and pruner as they can sometimes be called) is a practitioner of arboriculture. These are career professionals that can cultivate, manage, care for, and rehabilitate trees and shrubs. There are also foresters who are professionals who specialize in managing an entire forest and may be responsible in harvesting wood whereas An arborist specializes in individual trees.
How to Become an Arborist
Though a formal education is not required, some employers like to see a blend of education in arboriculture and experience. You can gain a bachelor's degree in forestry or other related field. Arborists can also earn a specialized International Society of Arboriculture (ISA) certification to demonstrate their knowledge in a particular aspect of arboriculture. ISA actually has six certifications available:
ISA Certified Arborist Municipal Specialist
ISA Certified Arborist Utility Specialist
ISA Certified Tree Worker Climber Specialist
ISA Certified Tree Worker Aerial Lift Specialist
ISA Board Certified Master Arborist
In addition some companies may require you to have special licenses. A Commercial Driver's License (CDL) may be preferred. You can learn how about CDL license types (link opens in a new tab) and how to gain your CDL license from the Department of Motor Vehicles (link opens in a new tab) website.
Job Description of an Arborist
An arborist has many duties. Depending on where they are employed, they may also be responsible to climb trees (often with ropes) and some trees can grow to be very large. Safety when climbing a tree is a must so those that climb trees are also highly skilled in this area. Arborists are also sometimes called tree surgeons as not only must they remove dead limbs and prune a tree when necessary, they also monitor the health of the trees in their care and recommend treatment.
These professionals must also be aware of environmental changes such the introduction of an invasive species or other hazardous environmental element. In addition to ensuring the health of a tree, they may plant trees to promote additional growth as well. Those in this career field may spend a lot of time outdoors and in the elements.
Arborist Job Posting
This job announcement is looking for an individual that will work under the technical and general supervision of the Forester and Tree Crew Supervisor and will performs all related tasks involving trimming and removing trees on roadways, grounds, parks, or other public lands, including thinning, pruning, trimming, and cutting away dead branches or excess branches from large trees, felling and cutting up trees, and removing stumps.
The ideal candidate is a team player with a strong work ethic and the skills and passion to help us maintain and care for this treasured historic San Francisco forest. They are to perform the following responsibilities:
Fell trees, clear land, and prepare soil, plants, stakes and mulches to assist with preparation, installation and maintenance for the establishment of new trees in reforestation sites.
Prune or remove trees and stumps using chain saws, handsaws, pole saws, pole pruners, stump grinders wheel loaders, track loaders and various other tools and equipment.
Climb trees with ropes and harness both with and without the use of climbing gaffs and/or work from aerial lift to remove dead, dying, diseased, damaged and hazardous limbs or trees.
Cut, stack, haul, load, chip and transport brush, logs, stumps and other debris utilizing chipper, front end loader, trucks, trailers and other tools and equipment.
Drive trucks hauling forestry equipment, trailers, tree chips, brush, logs and other debris, materials and supplies.
Perform rigging for the removal of limbs and heavy wood utilizing slings, ropes, blocks, knots, lowering devices and other hardware and equipment.
Perform other regular tree maintenance duties including various forms of mature tree care, hazard reduction pruning, limb removal, natural target pruning, selective pruning, clearance pruning for buildings, roads and utilities and structural pruning of young trees for a variety of different tree species throughout the Presidio.
Perform routine maintenance and repairs on tools and equipment, and maintain shop and work areas in a clean, orderly and safe condition.
Monitor self, crew and public safety; provide traffic control, set out cones, barriers and warning signs and utilize safe work practices for tree work as set out in both ANSI and OSHA standards.
Respond as appropriate to questions from public, residents, tenants, and Presidio staff using principals of good customer service; report any problems or issues to supervisor.
Cut grass and tall weeds by use of string trimmers, brush cutters and high weed mowers.
A arborist, tree surgeon, or (less commonly) arboriculturist, is a professional in the practice of arboriculture, which is the cultivation, management, and study of individual trees, shrubs, vines, and other perennial woody plants in dendrology and horticulture.
Arborists generally focus on the health and safety of individual plants and trees, rather than managing forests or harvesting wood (forestry or silviculture). A arborist's scope of work is therefore distinct from that of either a forester or a logger.
Scope of work
In order for arborists to work near power wires, either additional training is required or they need to be certified as a Qualified Line Clearance Arborist or Utility Arborist (there may be different terminology for various countries). There is a variety of minimum distances that must be kept from power wires depending on voltage, however the common distance for low voltage lines in urban settings is 10 feet (about 3 metres).
Arborists who climb (as not all do) can use a variety of techniques to ascend into the tree. The least invasive, and most popular technique used is to ascend on rope. There are two common methods of climbing, Single Rope System (SRS) and Moving Rope System (MRS). When personal safety is an issue, or the tree is being removed, arborists may use 'spikes', (also known as 'gaffs' or 'spurs') attached to their chainsaw boots with straps to ascend and work. Spikes wound the tree, leaving small holes where each step has been.
An arborist's work may involve very large and complex trees, or ecological communities and their abiotic components in the context of the landscape ecosystem. These may require monitoring and treatment to ensure they are healthy, safe, and suitable to property owners or community standards. This work may include some or all of the following: planting; transplanting; pruning; structural support; preventing, or diagnosing and treating phytopathology or parasitism; preventing or interrupting grazing or predation; installing lightning protection; and removing vegetation deemed as hazardous, an invasive species, a disease vector, or a weed.
Arborists may also plan, consult, write reports and give legal testimony. While some aspects of this work are done on the ground or in an office, much of it is done by arborists who perform tree services and who climb the trees with ropes, harnesses and other equipment. Lifts and cranes may be used too. The work of all arborists is not the same. Some may just provide a consulting service; others may perform climbing, pruning and planting: whilst others may provide a combination of all of these services.
Qualifications
Arborists gain qualifications to practice arboriculture in a variety of ways and some arborists are more qualified than others. Experience working safely and effectively in and around trees is essential. Arborists tend to specialize in one or more disciplines of arboriculture, such as diagnosis and treatment of pests, diseases and nutritional deficiencies in trees, climbing and pruning, cabling and lightning protection, or perhaps consultation and report writing. All these disciplines are related and some arborists are very well experienced in all areas of tree work, but not all arborists have the training or experience to properly practice every discipline.
Arborists choose to pursue formal certification, which is available in some countries and varies somewhat by location. An arborist who holds certification in one or more disciplines may be expected to participate in rigorous continuing education requirements to ensure continuous improvement of skills and techniques.
Arborists are frequently consulted to establish the factual basis of disputes involving trees, or by private property owners seeking to avoid legal liability through the duty of care. Arborists may be asked to assess the value of a tree in the process of an insurance claim for trees damaged or destroyed, or to recover damages resulting from tree theft or vandalism. In cities with tree preservation orders an arborist's evaluation of tree hazard may be required before a property owner may remove a tree, or to assure the protection of trees in development plans and during construction operations. Carrying out work on protected trees and hedges is illegal without express permission from local authorities, and can result in legal action including fines. Homeowners who have entered into contracts with a homeowner's association may need an arborist's professional opinion of a hazardous condition prior to removing a tree, or may be obligated to assure the protection of the views of neighboring properties prior to planting a tree or in the course of pruning.
No data matched by id...
No data matched by id...
No data matched by id...
No data matched by id...
No data matched by id...
No data matched by id...
No data matched by id...
No data matched by id...
{ "@context":"https://schema.org", "@type":"WebPage", "headline":"Tree Arborist Near Me", "url":"https://truetreeservices.com/tree-arborist-near-me/", "about":
[{"@type": "thing", "name": "arborist", "sameAs": ["https://en.wikipedia.org/wiki/Arborist", "https://www.google.com/search?q=arborist&kgmid=/m/01v000"]}, {"@type": "thing", "name": "tree surgeon", "sameAs": ["https://en.wikipedia.org/wiki/Arborist", "https://www.google.com/search?q=tree+surgeon&kgmid=/m/01v000"]}, {"@type": "thing", "name": "london", "sameAs": ["https://en.wikipedia.org/wiki/London", "https://www.google.com/search?q=london&kgmid=/m/04jpl"]}, {"@type": "thing", "name": "pruning", "sameAs": ["https://en.wikipedia.org/wiki/Pruning", "https://www.google.com/search?q=pruning&kgmid=/m/02dj6v"]}, {"@type": "thing", "name": "trees", "sameAs": ["https://en.wikipedia.org/wiki/Tree", "https://www.google.com/search?q=trees&kgmid=/m/07j7r"]}, {"@type": "thing", "name": "arboricultural", "sameAs": ["https://en.wikipedia.org/wiki/Arboriculture", "https://www.google.com/search?q=arboricultural&kgmid=/m/01qfw6"]}, {"@type": "thing", "name": "consultants", "sameAs": ["https://en.wikipedia.org/wiki/Consultant", "https://www.google.com/search?q=consultants&kgmid=/m/02n9jv"]}, {"@type": "thing", "name": "contractor", "sameAs": ["https://en.wikipedia.org/wiki/Employment", "https://www.google.com/search?q=contractor&kgmid=/m/01tqrk"]}, {"@type": "thing", "name": "surgeon", "sameAs": ["https://en.wikipedia.org/wiki/Surgeon", "https://www.google.com/search?q=surgeon&kgmid=/m/02y_93f"]}, {"@type": "thing", "name": "dorset", "sameAs": ["https://en.wikipedia.org/wiki/Dorset", "https://www.google.com/search?q=dorset&kgmid=/m/09cpb"]}, {"@type": "thing", "name": "insurance", "sameAs": ["https://en.wikipedia.org/wiki/Insurance", "https://www.google.com/search?q=insurance&kgmid=/m/03xks"]}, {"@type": "thing", "name": "surgery", "sameAs": ["https://en.wikipedia.org/wiki/Surgery", "https://www.google.com/search?q=surgery&kgmid=/m/0bh77d7"]}, {"@type": "thing", "name": "diseases", "sameAs": ["https://en.wikipedia.org/wiki/Disease", "https://www.google.com/search?q=diseases&kgmid=/m/027x3"]}],
"mentions":
[{"@type": "thing", "name": "arboriculturists", "sameAs": ["https://en.wikipedia.org/wiki/Arborist", "https://www.google.com/search?q=arboriculturists&kgmid=/m/01v000"]}, {"@type": "thing", "name": "gcse", "sameAs": ["https://en.wikipedia.org/wiki/General_Certificate_of_Secondary_Education", "https://www.google.com/search?q=gcse&kgmid=/m/013rbk"]}, {"@type": "thing", "name": "arborists", "sameAs": ["https://en.wikipedia.org/wiki/Arborist", "https://www.google.com/search?q=arborists&kgmid=/m/01v000"]}, {"@type": "thing", "name": "architect", "sameAs": ["https://en.wikipedia.org/wiki/Architect", "https://www.google.com/search?q=architect&kgmid=/m/0mn6"]}, {"@type": "thing", "name": "certification", "sameAs": ["https://en.wikipedia.org/wiki/Certification", "https://www.google.com/search?q=certification&kgmid=/m/011b7yqg"]}, {"@type": "thing", "name": "degree", "sameAs": ["https://en.wikipedia.org/wiki/Academic_degree", "https://www.google.com/search?q=degree&kgmid=/m/016bnh"]}, {"@type": "thing", "name": "prune", "sameAs": ["https://en.wikipedia.org/wiki/Pruning", "https://www.google.com/search?q=prune&kgmid=/m/02dj6v"]}, {"@type": "thing", "name": "consultancy", "sameAs": ["https://en.wikipedia.org/wiki/Consultant", "https://www.google.com/search?q=consultancy&kgmid=/m/02n9jv"]}, {"@type": "thing", "name": "expertise", "sameAs": ["https://en.wikipedia.org/wiki/Expert", "https://www.google.com/search?q=expertise&kgmid=/m/02pkl"]}, {"@type": "thing", "name": "tree surgery", "sameAs": ["https://en.wikipedia.org/wiki/Arboriculture", "https://www.google.com/search?q=tree+surgery&kgmid=/m/01qfw6"]}, {"@type": "thing", "name": "health", "sameAs": ["https://en.wikipedia.org/wiki/Health", "https://www.google.com/search?q=health&kgmid=/m/0kt51"]}, {"@type": "thing", "name": "surgery", "sameAs": ["https://en.wikipedia.org/wiki/Surgery", "https://www.google.com/search?q=surgery&kgmid=/m/0bh77d7"]}, {"@type": "thing", "name": "mewp", "sameAs": ["https://en.wikipedia.org/wiki/Aerial_work_platform", "https://www.google.com/search?q=mewp&kgmid=/m/08qghd"]}] }