There are millions of homeowners in Utah who take pride in their yards especially in the fact that they put the work into their yards and tree care themselves. They planted the trees, they watered the trees, they grew the trees, they loved the trees… and now that the trees are starting to look like they might need a little cutting back, they think they should do the tree trimming as well.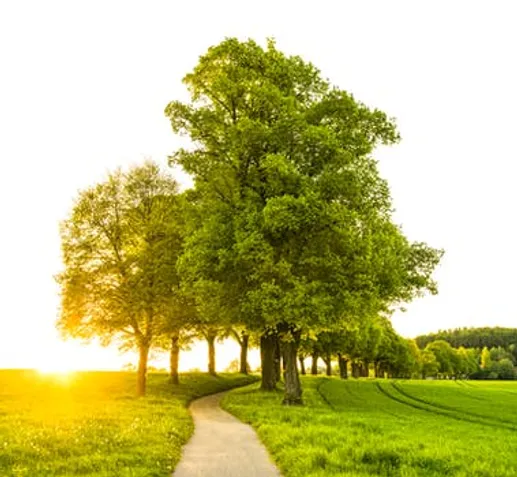 Injuries During Tree Trimming Are Common
There are a lot of safety issues in tree trimming that you don't have to worry about when you're gardening or pruning shrubs. Simply operating a chainsaw, even without actually cutting anything, is more dangerous than almost anything you can do on a knee pad with a trowel in your hands.
In even slightly more complex situations, such as if there's a power line near the tree you're trimming, or you're trimming branches that are too high for you to reach on your tiptoes, you add dangers like electrocution, falling, and having falling objects hit you in addition to the 'mere' risk of an accident with your chainsaw. A professional tree trimmer not only has lots of experience with these tasks, but they also have insurance that will cover their medical costs if they're injured on the job.
Improper Tree Trimming Can Cause Property Damage
Generally when you decide that you need to get rid of a bunch of tree limbs, it's because they're threatening to damage your home or some other nearby structure that you find valuable. But think about it: if the limb is threatening something you care about, and you send that limb plummeting to the ground… what are the chances it'll hit the thing you care about? Or something else in the vicinity?
Professional tree trimmers come with task-specific equipment like cranes, branch and trunk riggings, and other specialized gear that let them get the job done safely. Equally importantly, by hiring a professional, you're also getting a bonded service which means if they screw up and damage your property anyway, the loss is covered by their insurance.
Keep The Trees Healthy
Here's the real kicker, though: presumably, if you're trimming a tree, it's because you'd rather not remove it. But trimming can do a lot of damage to a tree! If you're not sure what you're doing, you could easily end up putting unnecessary stress on the tree and impacting its ability to resist pests and diseases in the future.
A tree care crew will come in and write up a plan that not only takes yourself and your property into account, but also the health of the tree being trimmed. They can eliminate the danger now without incidentally increasing the danger you'll face down the road and that's worth a lot. In short, there's very few good reasons for someone to try to do their own tree trimming. It's unsafe to them, it's unsafe for their property, and it's unsafe for the tree. Instead, call a professional arborist service to come in and take care of the trimming properly.
There are various tree trimming companies offering specialized services dealing with different issues relating to trees. You have to make sure that you choose the right company that solves your problem and satisfies you. Certain amount of knowledge and skill is necessary to trim trees. One cannot just take a saw and trim trees. There is a certain way to go about it. Hence, you must put in good amount of time and effort in deciding the company whose services you will hire. You must keep the following points in mind before selecting a company:
· Insurance: The company must have its workers well insured. Trimming trees involves a huge amount of risk. The company must remove insurance policies on its laborers and workers to protect them. If they are injured, the workers could claim compensation. When trimming trees, if the workers damage the neighbor's property in some way, then the workers need coverage for that too. To trim trees, at times, the worker has to climb great heights. If there is a fall then there has to be a good policy in place to cover the accident. In case the company has not covered its employees, then you should definitely not hire its services at all. The entire risk will fall upon you in case of any terrible incident. Since the trimming takes place on your property, you could face legal charges due to any accident.
· License: It is important for the tree trimming companies to get valid licenses for their workers. The employees have to undergo proper training programs to get their license. The course makes them fit to take care of all safety precautions while doing their jobs. Trees felling process should be in a way that protects them from damage. You would hire services of the company only if its workers have certifications.
· Quotations: Before you hire any company for tree trimming on your estate you must take quotations from two-three firms. This will give you a clear picture that the company you select is not over-charging you. You must also ask them to put onto paper the services that they will offer at the price they are demanding. You must keep in mind that if the quote is low, it does not mean that the services are the best. You must do your research well before you choose the company. At the same time, you must see to it that the company is not cheating you by over-charging. There are various tree trimming companies listed on the Internet. You could get their contact numbers and call them to get detailed information. If you research on the Internet, you will also find that there are reviews or ratings given by customers who have hired the services of the companies. These feedback and reviews will be of great help as you will be able to decide if it is worth engaging the company for your tree problems. In case their services are not worthwhile, it will save you from regretting later.
The Service to Expect From a Professional Tree Service Company
Many people never realize the importance of professional tree removal companies until they wake up one morning and find that a huge tree has fallen right in the middle of your garden. This is when you will realize that they don't have the skills and the tools that are necessary for a simple tree removal. The only option therefore is to seek for professionals to help out. If you ever find yourself in this situation you might need the services of a tree service company as outlined below;
Tree Trimming
You might find that there are certain trees in your compound that grow to big that they reach utility lines such as the electricity lines. This can cause serious electric faults which can result into a number of damages within the home. They can also grow too close to the house and risk smashing the house in times of storms. Such require tree trimming to tame their growth and make them safe and neater. For better results with such kind of trees, using a professional tree service company is your best option.
Tree Removal
In some instance, trees might require complete removal from their location. This can happen when the tree breaks during a storm and leaves a dangerous stamp standing on the ground or it is simply dead and no longer serves its purpose. The process of tree removal is very gruesome and if not done in the right manner, it has the potential of resulting into more injuries and this is why it's recommended that it should only be done by a tree service company.
Irrigation Of The Trees
Tree irrigation is another service you will get from tree services companies. You might be tempted to think that this is a simple one but you need to be informed that different trees have their different water requirements and without the right knowledge, you are likely to supply more or less water to the trees and this can lead to their death.
Disease Control
Trees are also attacked by diseases. The best placed people who can decipher if a tree has been attacked by a pest or a disease are the tree service professionals. They understand the different kind of pests and diseases that can attack the trees and they have the right pesticides to treat the diseases and kill the pests. They can also guide on the best practices on how to take care of the trees to avoid future pest attacks and diseases.
How To Find Professional Tree Trimming Experts That Can Help You
Finding a professional that will handle your tree trimming and maintenance concerns can be a trying task. Not all of the arborist services are all inclusive, but you may find that you need a stump removal service as well as the standard trimming procedures. Here are some good tips and methods to finding a professional that will handle all of your needs.
Call Around
Calling around and making a short list of possible service professionals is a good first step. The phone book is full of arborists and tree trimming professionals, but not all of them can handle the tasks you may need done. Ask the businesses' representative about all of your potential concerns up front, and you will have a better idea of what they can handle. Make a list of businesses that can answer all of your questions succinctly and correctly, and that have a full service list.
The Health Of A Tree
A company that will always take the health of a tree into account is especially important. Trees are our primary method of recycling the very air we breathe, so a removal company that does everything it can to save a tree, rather than remove it, shows a higher level of quality and care. In many cases, even a desiccated and diseased tree can be resuscitated, and the infections removed. Ask all of the companies on your shortlist if they provide this service.
Ensure That They Are Experts
Make sure that the companies you have chosen are fully committed to their jobs, and are experts in the arborist field. Asking if they have specialized equipment to deal with uncommon problems is a good indication that this particular company is committed to excellence. Make sure that all of their employees are properly certified, licensed, and trained, as an improperly certified professional can cause damage to your property. Also ask whether they are committed to aesthetic quality, such as, removing all debris and stumps from the area that the tree was removed from. All of these are important considerations when choosing a tree trimming specialist.
Complete Service
Just because you only need a tree removal service today, does not mean you may not need a stump removal service tomorrow. Choosing a company that provides all of the services associated with arborism will make it easy to choose a company next time you need their valuable services.
A full service company will also generally handle each task with more care and patience. Building a relationship with a company and using them in the future is a valuable component in today's business scheme, and will help ensure that your project is done completely and with the maximum amount of care.
The Benefits Of Tree Trimming On Your Property
Trees makes a home look more appealing and give the home a conducive climate. In order to enjoy all the benefits of having trees in your home, it is important to maintain them well. One of the ways of maintaining trees is by trimming them to ensure they are in the right size and more appealing. Tree trimming is an activity that should be carried out regularly with proper tools and expertise. Below are the benefits of trimming tree at home.
Promote the Health of the Tree
Just like human beings, trees are living and require to be maintained in order to live longer. Trimming can make your tree last for a longer time because the dead, weak, diseased and pest infested parts are removed in the process. It is worth noting that failure to remove those parts makes them rot and affect the overall health of the tree. Frequent trimming also improves the overall look or appearance of the trees, thus making your home look more appealing. By removing the unwanted branches that draw energy from the trunk, the other tree parts can flourish. Removal of the excess limbs can also enhance the production of more flowers, leaves and fruits.
Provide Protection for the House and Property
Hanging tree branches at home can be a cause of great cause of destruction if they break off or fall onto a house during a strong wind or rain. In the long run, additional destruction can occur because tree branches burrow their way under shingles leading to roof leaks. Another problem that might arise because of the failure to trim trees at home is distraction of power. This is because the trees can grow into power lines, thus increasing the risk of loss of power and more damages to the line that can be very costly to repair. Most utility companies trim trees in public places, but require homeowners to trim the trees in their homes to prevent damage to the power lines failure to which a fine is imposed if the trees lead to destruction of the power lines.
Protect your family
Trimming trees on a regular basis help keep people on the property from being injured. The fact is that low hanging limbs and branches that are cracked can cause severe injury or even turn into a fatal accident if they happen to come down on someone. Hence, having the trees trimmed is a good safety measure, because it reduces the tree's weight, and reduces the chance of stray branches falling on any of your loved ones.
Improve the appearance of your property
Tree trimming help improve the appearance of trees in your home. In addition, to making your home look more elegant, it also increases the value of your property if you decide to sell it. Buyers always look for a well maintained property when they give the value at which they can buy it making the regular trimming of the trees crucial. However, it is good to note that the above benefits are subject to correct trimming of the trees and at the right time. You can trim the trees by yourself or hire an expert if you cannot do it effectively. TruCo Services is a full-service landscaping and snow removal organization that can handle every aspect of your project needs.
Our teams of professional irrigation technicians, landscapers, licensed fertilizer applicators, certified arborists, and top-notch management staff deliver quality services that you'll be proud to showcase at your home or business.