Since backyard design takes place behind the house, it may not be obvious as you drive down the street, but there are changes taking place in backyards everywhere. We are spending more time relaxing on our decks and patios after long work weeks. We're leaving the comfort of our air conditioned interiors to entertain and cook outdoors. This shift is changing the way we approach backyard design. Increasingly, backyards are being compartmentalized, encompassing a wide range of inviting spaces designed for recreation and relaxation.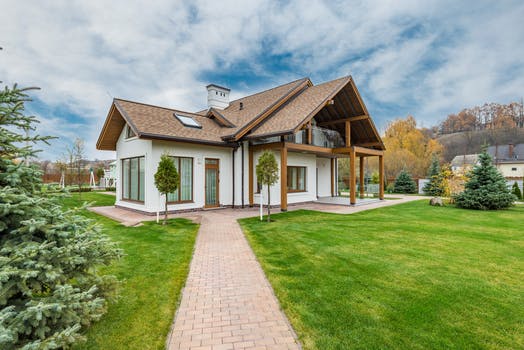 Technology plays a key role in helping us spend more time with our families, and to make the most of the spaces we have both inside and outside the house. Advances in outdoor lighting make exterior areas more inviting after dark.
Heaters and outdoor fireplaces provide greater comfort and extend the outdoor season. Backyard design can now transform your barbeque into an outdoor kitchen, able to provide gourmet meals. Innovations have made pools and hot tubs more affordable. The development of durable, weather-resistant materials for furniture and fabrics continues to enhance the style and comfort of outdoor furnishings. However, successful backyard design involves more than adding accessories.
Backyard landscaping ideas are best approached as part of the overall home designing process one that considers the relationship between indoor and outdoor spaces. When porches, decks, and patios are planned as integral parts of a new or renovated home, they can be designed to create transitions that are so subtle they blur the line between the house and the landscape.
When planning outdoor spaces, take backyard design hints from your home's indoor rooms. By designing exterior areas with the same attention given to an indoor room, you can create a place to gather with your family, or escape after a long day at work.
These outdoor rooms can have floors, walls, ceilings, comfortable furnishings, and decorative accents, just like your living room. Keep in mind the outdoor elements which will dictate fabric choices, life cycle of your furnishings, and how your backyard design will work with local wildlife. Throughout your backyard, spaces should vary in shape, size, and character. Relaxing spaces, for instance, should include comfortable seating, while dining areas need sturdy tables and outdoor cooking amenities. Both should be positioned for afternoon shade. While some areas are for sitting, others should be for standing or strolling, and at least one area should be for activities – especially if you have children. How you divide the overall plot into these spaces will be determined by its general size and shape, how you usually spend your outdoor time, and the composition of your family.
A combination of several cozy areas has a way of feeling larger than a single medium-sized space. If there's no room to divide, lay out paths, patios, or lawns diagonally or along an S-curve. This makes a yard appear bigger by allowing it to unfold gradually rather than in a single glance.
Paying attention to details, such as paving materials or planting zones, also makes a small space seem larger. This is because it takes longer to visually absorb all of the elements. With larger spaces, you can divide them into smaller, functional spaces, so they appear more inviting and manageable. When you're planning your backyard design, identify areas for cooking, dining, entertaining, gardening, and activities. Determine how much space is needed for each.
Also define areas that you wish to leave natural. Regardless of size, backyard spaces should be clearly defined and conveniently connected. This may be as simple as changing the paving materials – like stepping from a stone patio onto a lawn. Building a low step between two such areas will distinguish the spaces while preserving the open feeling.
It takes time to implement the plans for a backyard design. Take it slow and tackle one area at a time. Don't be surprised if it takes longer than you expected. You will probably change plants and make improvements over several years. Start with areas closest to the house because you can see them from the indoors and because they will be used most. And finally, address any urgent outdoor needs up front – such as storage needs or play areas for children.
The art of backyard designs is mainly to fulfill one goal, and one goal only: to transform your outdoor space into a fabulous natural area which does wonders for your property, by providing a usable area for relaxing and entertaining. Most backyard design plans generally take into consideration the basic architecture of your house, seeks to complement it, while at the same time creating a beautiful, relaxing, functional area outside. Subtle blending of the general outdoor appearance with the interior décor, is the most effective way of ensuring that your outdoor area accentuates the existing architecture of your home.
Here are some helpful tips which will help you make the best decision for your backyard design.
Choosing Plants
Plan your backyard well and be sure to include a variety of plants at various stages of growth. Trees, shrubs and flower seedlings are all available at varying heights and stages and they do go a far way in enhancing the overall appearance of your backyard. Be certain to choose your plants well for your backyard. If you are not the kind of person who takes pleasure in high maintenance projects, then it is highly advisable that you purchase plants that are easy to care for as opposed to being aesthetically pleasant.
Consider Adding a Patio
Open backyard patios are among the most common backyard designs that work wonders for enhancing the general appearance of any backyard. The options are basically limitless, there are a plethora a patio designs that will work for any space in any backyard. It is quite possible that the only major drawback in deciding to put in an outdoor patio is the time spent trying to decide which one is best for your yard. Patios are truly an asset to any backyard.
How About Pergolas?
Contrary to popular belief that when starting out in developing backyard space, it is mandatory that one begins by planting seeds and establishing a lawn, this does not have to be so. An attractive item which you may want to consider starting with is a pergola. Pergolas create the effect of openness and they also have the ability to create an illusion of enclosure depending on how it is used. While some people may prefer to just have a basic pergola in their backyard, you are certainly not restricted in this regard. The sky is the limit. And there are many themed pergolas which you may make use of depending on the image which you want to create.
Lights, Lights and More Lights!
Outdoor lighting can create the right ambiance for your outdoor backyard living area. Electric or solar lamps made especially for lighting walkways, garden beds or even outdoor fireplaces can make all the difference to the final appearance of your backyard design.
Geometrical Patterns
Garden designs, with the lawn taking central attention, and rest of garden designed around it, are largely popular. Among lawn designs, geometrical shapes are a big hit these days. Grass shaped in squares, triangles etc., separated with concrete or tiles, gives a much groomed look to the backyard. Simple and modified pergola designs with little carpentry go perfect with such lawns.
Segments & Topiaries
Where backyards are spacious enough, creatively segmenting it into different interest zones like a pets' corner, play area for kids, bonfire circle, kitchen garden, etc. enhances utility, along with giving it an artistic touch. The various segments can be made through hedges and connected through gateway-shaped, flower and creeper laden topiaries.
Artificial Turf
For those who fantasize a perfect looking backyard with fresh green grass, but are traumatized over the thought of its maintenance, 'Artificial Turf' has come to your rescue. Almost as soft as natural grass and without any worries of wear & tear, mowing & watering and dead patches, it is ideal for outdoor dining area, play area and for edging.
Outdoor Kitchen with Kitchen Garden
Outdoor kitchen area is a huge hit now days. With cylindrical clay ovens (tandoors) and barbecues, cooking in the midst of nature is bliss. If it is coupled with a privately owned kitchen garden, nothing can be better. As inflation and adulteration both are on rise, a well-managed kitchen garden can take good care of your pocket as well as health. All you need to do is plant a mix of perennial and seasonal vegetables and share a part of produce with the neighbours, and soon your backyard will be a hit in the vicinity.
Water Features
You can take your backyard to the next level by adding an element of sound in the design – with a little touch of ornamental water features. Small waterfall, brook or fountain, apart from being visual delights, can host a number of colourful, melodious bird guests to your place.
Modern Designs
Those in crowded cities and with racing lifestyles need not let their heart sink down. They can content their naturist tendencies with the modern designs, with more of hardscapes (wood, stones, glass, steel and concrete) and less of plants. These designs are easy to maintain and can be easily experimented with, to make them suitable for small balcony or porch.
Theme-Based Designs
Going for theme based backyard can also be one of the unique ways of designing it. Themes can be season based, colour based or anything that interests you. However it might call for some extra expenses, especially if you are prone to getting bored of a particular theme quickly.
Tips on Creating Your Dream Backyard
Are you looking for some creative backyard landscaping ideas that can transform a simple piece of land into a wonderful place for you and your family to spend time in? Here are a few backyard landscaping ideas to start with.
1. Plants
Plants are a great way of adding beauty and character for landscaping. These plants will grow and add their own character.
· Large evergreens will give a look of elegant mansions and homes.
· Flowering plants add color that is important in any backyard. They also add contrast.
· Roses grown in a garden bed will be very pleasant. And they come in a hue of colors. This also provides with cut flowers for your home. If not roses, choose flowers of your choice with some pretty colors.
· Wildflower gardens are also an option and these need lesser maintenance, and give a rustic look. The more space with plants, the lesser lawn area to mow.
2. Vegetable and Herbs
Growing vegetables and herbs also interest some people. This way you can just pluck your vegetables and herbs from your garden.
3. Garden Furniture and Accessories
Another tip of the backyard landscaping ideas is adding decks, patios and even statues or figurines to add a further dimension to your backyard. This can be stretched further with the inclusion of a rock-garden, a fish pond or fountain, space permitting. Have an overall concept and design in mind, before you set to work on the backyard. Do not be tempted to avoid plants as this will take away the beauty and serenity as well as the health benefits of having plants around.
4. Do Your Research
The first step is to do research on what you like. Get big picture ideas that appeal to you. There are a ton of resources that are available. Looking through magazines and clipping out the ideas that you like is a great place to start. Another great place is the Internet to find beautiful pictures and idea. Not only can you search local landscaping companies, but also you can go to general sites such as Trucoservices.com to gain some more ideas.
2. Visualize The Important Features
After scouring through all your resources to come up with ideas that you like, start to visualize a little bit and focus on the important items that you want for your back yard. Make a list of items that are the most important to you down to items that are things you want, but might not necessarily need. Start visualizing what you want in a dream backyard and where you would imagine it being placed. Do you want an outdoor built in grill with a mini fridge and granite countertops? Maybe you want a place to put a certain patio table set or lounge set and you have an idea of colors that you want to be prominent. You may want some water features or fire features to be displayed in certain areas.
Now that you've got an idea of the things that are important to you, narrow down what makes sense in your particular backyard. Look at the space restrictions and just get an idea of the items that will fit and the potential materials that you want to include. You might want bluestone or you might want clay pavers or perhaps a Pergola. The goal is to just set some realistic expectations, but don't close your mind to some of your options. You might be surprised that some of the items that you really wanted can still be implemented.
3. Budget Your Project
This is where the rubber starts to meet the road. You need to allocate a budget that makes sense to allocate to this project. You want to set a budget that you will be comfortable with but that is also realistic to getting the job done. You may decide to allocate a budget based on steps, for example maybe you can do a certain amount now, but can allocate another amount in 3 to 5 years and so on. Coming up with a plan will help you set yourself up for success. You may not be able to implement everything at this moment, but there may be components that could be added later and having an idea of how to break that down budget-wise is very helpful.
4. Consult A Professional
This is probably the most important step to take. Consult a professional in Truco services who is an expert in Landscaping and they are the one who can give you the best services. Get some quotes and be realistic with the things that you want. Let them know what items are important to you and what items can be left out or possibly added at a later date.
TruCo Services will be able to give you an idea of the items that are most important to implement now and the items that could wait. They will take your highest desires in mind, but will probably have some ideas that you may not have thought of. For example, maybe you didn't think about the planting aspect of it, and they suggest some great plants and privacy plantings that would improve your backyard, tremendously.
Once you consult TruCo Services and come up with a design together you can nail down your final wish list and develop a plan for your dream backyard. Whether you want to do the whole project now or break it down into steps based on budget, your professionals in TruCo Services will help you every step of the way.