Tree Services Herriman Utah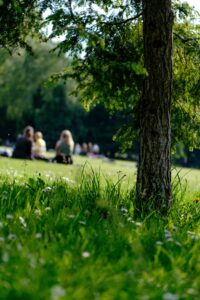 Tree Services Herriman Utah
Your Commercial Tree Care Experts in the Herriman, UT Area
BrightView Tree Care Herriman, UT offers a wide variety of commercial tree services based on the knowledge of our local arborists, who understand the regional climates and challenges. See the list of available commercial tree care services for the Herriman, UT area below.
Pruning & Maintenance
Ensure the health and beauty of your trees and help minimize the potential for liability on your commercial property with a pruning and maintenance program designed for the age, size, condition, and location of your trees.
Tree Health Management
Properly assess the health needs of your trees with the help of our certified arborists. By carefully examining irrigation, soil compactness, and pest damage, you will get a complete picture of your trees' wellbeing, pinpointing their cause of stress and needs for recovery.
Cabling & Bracing
Prevent problems before they happen. Our arborists are experts at diagnosing conditions that jeopardize our trees and can make recommendations that provide extra support where needed.
Lightning Protection
Whether a landmark sycamore or a century-old oak, symbolic specimens require protection from one of nature's most destructive forces. Our certified arborists are trained in the installation of tree lightning protection systems, which divert lightning bolts to the ground without any damage to the trees on your commercial property.
Tree Removal
In the event a tree cannot be saved and must be removed from your commercial property, our knowledgeable experts can ensure it happens safely. Our experienced crews are qualified to execute removal operations of any size or complexity – and in full compliance with all national and local safety regulations.
Tree Preservation
Protect the economic and historical value of landmark trees on your commercial property. Long-term survival and stability of important trees requires expert knowledge to ensure health and vigor are preserved during each phase of development – from planning, design, grading, and construction to ongoing landscape maintenance. Our widely regarded professionals will work alongside your landscape architect and engineering firm to identify which trees should be preserved and which are suited for relocation.
Emergency Storm Clearance
Proactive pruning and thinning of your tree canopies dramatically minimizes the risk of damage and is far less costly than the expense and inconvenience of an emergency situation. But when an emergency does arise, our crew is well equipped to respond swiftly with our local teams and national resources. With a 24/7 infrastructure, we're able to quickly assess property damage and provide timely cleanup of your business.
Our skilled team specializes in all types of projects and we'll be there for you no matter what size job you may have. Don't worry about your wallet. We believe that excellent customer service is the best way to go. Our affordable rates and fair price policy will have you satisfied, while also leaving your wallet full! You need a trustworthy company for your tree care projects so consider Herriman Tree Service! When you are looking for tree service Utah county Herriman tree services the company to call. At Herriman Tree Service we provide excellent tree care. We take customer satisfaction seriously and will never let it come second. If you are looking for landscaping trees Utah our skilled team is ready to help no matter what size the job may be, so don't hesitate give us call today to get more information about how we might be able to assist you in maintaining that beautiful tree of yours. If you're looking for a reliable company that has the skills and resources to handle any tree related project, trust Herriman Tree Service. We offer affordable rates plus excellent customer service. Our discount tree service will be sure to please you. Herriman Tree service offers many services including discount tree removal and discount tree trimming.
Tree Pruning
Trees are essential to life on Earth. They provide us with shade and clean air, so we should always take care not damage them when pruning or cutting away dead wood! Trees are usually self sufficient but sometimes they need our help! A good thing you can do for you tree is to cut away dead wood when needed and prune correctly to keep it strong in its fight against disease. This will ensure that the tree stays healthy so that it can do its wonderful job of absorbing carbon dioxide from the air around us. Trees ultimately make life on Earth possible because of the oxygen that they release. A tree is a living thing, and like any other plant or animal it needs care to survive. One of the most important aspects in caring for your trees properly is pruning them so that they can continue to grow in a healthy way. You might not know how often this needs to be done but don't fret because Herriman Tree Service offers expert advice on when you need to do what for your trees so when you need landscaping trees Utah we are the company to call.
Insect and Disease Management
If you have a tree that is unhealthy and looks like it has a disease than call a professional to assist you. A healthy tree is a beautiful thing. This may seem obvious, but it's so important! That's why we offer professional services for trees that aren't looking their best and need help restoring healthiness quickly before they are too far gone. Trees full of dead branches can really mess up an otherwise stunning landscape or yard design. We focus our efforts on removing dead branches without damaging the overall structural integrity so as to not weaken your tree. We don't want to do anything that would lead towards losing your beautiful lush tree all together! We don't want our customers calling us only when there are problems. We can help out with routine maintenance as well.
Tree Removal
It's important to get the help you need when removing trees. When looking for tree removal Utah call Herriman Tree Services because we have years of experience and will take all precautions needed so your property and your other trees aren't damaged during this process! Because this type of job usually involves the use of power tools you want to make sure to hire someone who is qualified to handle this type of equipment. It's not a question of whether or not you need us, but when. When it comes time for tree removal services call Herriman Tree Service and we'll be at your service! With many years in the industry combined with our teams, experience in tree care of service our company is hard to beat. When you need a tree removed, don't hesitate to call us. We have years worth of experience and will make sure that the removal gets done as quickly as possible with little risk for yourself or others during the removal process! If you are searching for tree removal Utah county Herriman Tree service is here for you.
Stump grinding/removal
We understand the difficulties of getting rid of a stump in your backyard. If you hesitate to call our team because it seems too big, don't worry! Our experienced staff will take care of every task quickly with knowledgeable operators trained on how best handle these types jobs safely. We are ready when needed so give us a quick phone call today–no job is too small or challenging for us. The best way to tackle a power tool job is with experience and know how. The last thing you need when working on these types of projects are dangerous tools that can hurt someone! With our company's expertise we will always have the right equipment for any type demolition project and that includes stump grinding and removal services if needed.
Tree Trimming
Because of the delicate beauty and intricate structure of a tree it is easy to see why you would want take care if it. When the time comes that she needs help from someone with experience like ours that is precisely what we offer! Our goal is to trim branches without causing any damage to the trees we work with. At times tree trimming techniques may need some minor adjustments in order reach balance between beauty on one side versus structural integrity on the other. Achieving this balance can be a tricky job even for professionals so it just speaks to the fact that this isn't something that you want to do without the proper guidance. Why take the risk of harming your beautiful and precious tree when you can call on us and our experience and rest easy knowing that your tree will be well cared for. You don't have to worry about your tree being a hassle, because we have got you covered! We'll come with all the tools needed for tricky trimming jobs and our experienced staff won't let anything get in their way.
Tree Fertilization and Planting
One might say that trees are the lungs of our world. They provide us with oxygen while also giving shade, and they play an integral part in helping mankind breathe clean air for generations to come! If you want your yard and landscape looking its best then planting a tree is one way. Trees act like eye candy adding unparalleled beauty to any landscape and outdoor environment. Trees are important for so many reasons! Trees provide much needed shade that can help to aid in keeping temperatures lower in summer. Trees are a huge asset to the environment because they emit oxygen and they even help mitigate climate change. Trees need nutrients in order to help them grow. They may require even more nutrients during stressful times such as suddenly and constantly shifting weather conditions. It is super important to make sure your tree roots stay happy by providing proper care. If you do this you will be saving yourself money on future maintenance costs too as well.
Our Services
~ Tree Pruning
~ Insect and disease control
~ Tree Removal
~ Stump Removal
~ Stump Grinding
~ Tree Trimming
~ Tree Planting and Fertilization
~ Emergency Tree Service
~ Tree Cutting
~Tree Care
~ and more…
Where would we be without trees? They're a natural phenomenon and there are many different types. Not only do trees provide shade and oxygen which we breathe in they share their beauty with us generously. Trees have impacted almost every area of our lives, without them life wouldn't be very interesting at all. When you need a dependable company that can handle all of your tree-related projects, think of Herriman Tree Service! We have the team and skills to make any job easier. Our customer satisfaction rates are always top notch because it is important to us to provide an excellent service by taking care of every single person who hires our company. You can't go wrong with our affordable rates and fair price policy. We want you to be satisfied, while also leaving your wallet full!
Emergent Tree Service
When strong winds come, they can knock over trees or damage them. Tending to trees that have been damaged in a storm can be a big and difficult job. If you want the best care for your trees then hire a professional company that knows what they are doing and can handle this type of situation quickly without putting anyone in danger! We at Herriman Tree Service have affordable rates that will fit any budget while still providing excellent customer satisfaction at all times. Herriman Tree Service on the web.
All the Tools You Need to Succeed
Trees are among the most important plants on Earth. Trees can be such a beautiful addition to any community. They provide shade, give off oxygen which is essential for us to breathe in order to stay alive and they themselves are so full of life! Trees even have so much variety among them which make them a wonderful addition to just about any backyard or landscape. When it comes time to do maintenance work we are the ones to call. Preventive care will help promote a long and healthy life for your tree. So if you need any help taking the very best care of your tree be sure to give us a call.
We're here for you. Whether your project involves needing work done on a huge tree or a really small one. We have affordable rates that will fit any budget and our team is happy to work with you no matter what size job you have. We've been in business for a while so we have the experience to tackle just about any tree related service that you might need. We know that the more satisfied our customers are the more likely they will be to recommend us to their friends and family so we strive to do an excellent job that will leave you feeling pleased.
{ "@context":"https://schema.org", "@type":"WebPage", "headline":"Tree Services Herriman Utah", "url":"https://truetreeservices.com/tree-services-herriman-utah/", "about":
[{"@type": "thing", "name": "herriman", "sameAs": ["https://en.wikipedia.org/wiki/Herriman,_Utah", "https://www.google.com/search?q=herriman&kgmid=/m/010fq1"]}, {"@type": "thing", "name": "herriman, ut", "sameAs": ["https://en.wikipedia.org/wiki/Herriman,_Utah", "https://www.google.com/search?q=herriman,+ut&kgmid=/m/010fq1"]}, {"@type": "thing", "name": "utah", "sameAs": ["https://en.wikipedia.org/wiki/Utah", "https://www.google.com/search?q=utah&kgmid=/m/07srw"]}, {"@type": "thing", "name": "landscaping", "sameAs": ["https://en.wikipedia.org/wiki/Landscaping", "https://www.google.com/search?q=landscaping&kgmid=/m/025sv9y"]}, {"@type": "thing", "name": "oak", "sameAs": ["https://en.wikipedia.org/wiki/Oak", "https://www.google.com/search?q=oak&kgmid=/m/09wzt"]}, {"@type": "thing", "name": "arborist", "sameAs": ["https://en.wikipedia.org/wiki/Arborist", "https://www.google.com/search?q=arborist&kgmid=/m/01v000"]}, {"@type": "thing", "name": "tree", "sameAs": ["https://en.wikipedia.org/wiki/Tree", "https://www.google.com/search?q=tree&kgmid=/m/07j7r"]}, {"@type": "thing", "name": "quercus", "sameAs": ["https://en.wikipedia.org/wiki/Oak", "https://www.google.com/search?q=quercus&kgmid=/m/09wzt"]}, {"@type": "thing", "name": "pruning", "sameAs": ["https://en.wikipedia.org/wiki/Pruning", "https://www.google.com/search?q=pruning&kgmid=/m/02dj6v"]}, {"@type": "thing", "name": "alabaster", "sameAs": ["https://en.wikipedia.org/wiki/Alabaster", "https://www.google.com/search?q=alabaster&kgmid=/m/0pj6"]}],
"mentions":
[{"@type": "thing", "name": "arborist", "sameAs": ["https://en.wikipedia.org/wiki/Arborist", "https://www.google.com/search?q=arborist&kgmid=/m/01v000"]}, {"@type": "thing", "name": "chinkapin oak", "sameAs": ["https://en.wikipedia.org/wiki/Quercus_muehlenbergii", "https://www.google.com/search?q=chinkapin+oak&kgmid=/m/0lwt5"]}, {"@type": "thing", "name": "quercus muehlenbergii", "sameAs": ["https://en.wikipedia.org/wiki/Quercus_muehlenbergii", "https://www.google.com/search?q=quercus+muehlenbergii&kgmid=/m/0lwt5"]}, {"@type": "thing", "name": "tree pruning", "sameAs": ["https://en.wikipedia.org/wiki/Pruning", "https://www.google.com/search?q=tree+pruning&kgmid=/m/02dj6v"]}, {"@type": "thing", "name": "lopping", "sameAs": ["https://en.wikipedia.org/wiki/Pruning", "https://www.google.com/search?q=lopping&kgmid=/m/02dj6v"]}, {"@type": "thing", "name": "austrian pine", "sameAs": ["https://en.wikipedia.org/wiki/Pinus_nigra", "https://www.google.com/search?q=austrian+pine&kgmid=/m/028mkb"]}, {"@type": "thing", "name": "pin oak", "sameAs": ["https://en.wikipedia.org/wiki/Quercus_palustris", "https://www.google.com/search?q=pin+oak&kgmid=/m/0k6mz"]}, {"@type": "thing", "name": "emergency", "sameAs": ["https://en.wikipedia.org/wiki/Emergency", "https://www.google.com/search?q=emergency&kgmid=/m/025rvy6"]}, {"@type": "thing", "name": "linden", "sameAs": ["https://en.wikipedia.org/wiki/Tilia_cordata", "https://www.google.com/search?q=linden&kgmid=/m/028j86"]}, {"@type": "thing", "name": "littleleaf linden", "sameAs": ["https://en.wikipedia.org/wiki/Tilia_cordata", "https://www.google.com/search?q=littleleaf+linden&kgmid=/m/028j86"]}, {"@type": "thing", "name": "juniperus", "sameAs": ["https://en.wikipedia.org/wiki/Juniper", "https://www.google.com/search?q=juniperus&kgmid=/m/016t5h"]}, {"@type": "thing", "name": "health", "sameAs": ["https://en.wikipedia.org/wiki/Health", "https://www.google.com/search?q=health&kgmid=/m/0kt51"]}, {"@type": "thing", "name": "deodar cedar", "sameAs": ["https://en.wikipedia.org/wiki/Cedrus_deodara", "https://www.google.com/search?q=deodar+cedar&kgmid=/m/049qtn"]}, {"@type": "thing", "name": "preventative care", "sameAs": ["https://en.wikipedia.org/wiki/Preventive_healthcare", "https://www.google.com/search?q=preventative+care&kgmid=/m/0400g4"]}, {"@type": "thing", "name": "populus tremuloides", "sameAs": ["https://en.wikipedia.org/wiki/Populus_tremuloides", "https://www.google.com/search?q=populus+tremuloides&kgmid=/m/0fvj76"]}, {"@type": "thing", "name": "road", "sameAs": ["https://en.wikipedia.org/wiki/Road", "https://www.google.com/search?q=road&kgmid=/m/06gfj"]}, {"@type": "thing", "name": "safety", "sameAs": ["https://en.wikipedia.org/wiki/Safety", "https://www.google.com/search?q=safety&kgmid=/m/01lh7h"]}, {"@type": "thing", "name": "cedrus deodara", "sameAs": ["https://en.wikipedia.org/wiki/Cedrus_deodara", "https://www.google.com/search?q=cedrus+deodara&kgmid=/m/049qtn"]}, {"@type": "thing", "name": "fagus", "sameAs": ["https://en.wikipedia.org/wiki/Beech", "https://www.google.com/search?q=fagus&kgmid=/m/015_vx"]}, {"@type": "thing", "name": "cedrus", "sameAs": ["https://en.wikipedia.org/wiki/Cedrus", "https://www.google.com/search?q=cedrus&kgmid=/m/0g25k"]}, {"@type": "thing", "name": "construction", "sameAs": ["https://en.wikipedia.org/wiki/Construction", "https://www.google.com/search?q=construction&kgmid=/m/01jnzj"]}, {"@type": "thing", "name": "blue atlas cedar", "sameAs": ["https://en.wikipedia.org/wiki/Cedrus_atlantica", "https://www.google.com/search?q=blue+atlas+cedar&kgmid=/m/012pvzb3"]}, {"@type": "thing", "name": "cedar", "sameAs": ["https://en.wikipedia.org/wiki/Juniperus_virginiana", "https://www.google.com/search?q=cedar&kgmid=/m/029fdp"]}, {"@type": "thing", "name": "safety regulations", "sameAs": ["https://en.wikipedia.org/wiki/Occupational_safety_and_health", "https://www.google.com/search?q=safety+regulations&kgmid=/m/04j9sc1"]}, {"@type": "thing", "name": "pruning", "sameAs": ["https://en.wikipedia.org/wiki/Pruning", "https://www.google.com/search?q=pruning&kgmid=/m/02dj6v"]}, {"@type": "thing", "name": "search results", "sameAs": ["https://en.wikipedia.org/wiki/Search_engine_results_page", "https://www.google.com/search?q=search+results&kgmid="]}, {"@type": "thing", "name": "ulmus", "sameAs": ["https://en.wikipedia.org/wiki/Elm", "https://www.google.com/search?q=ulmus&kgmid=/m/0hrv9"]}, {"@type": "thing", "name": "pinus nigra", "sameAs": ["https://en.wikipedia.org/wiki/Pinus_nigra", "https://www.google.com/search?q=pinus+nigra&kgmid=/m/028mkb"]}] }