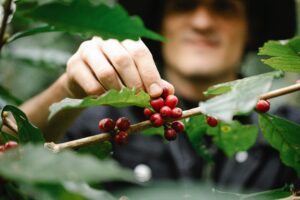 Service Berry Bush
What Is a Service berry Bush?
Service berry bushes (Amelanchier spp.), also called June berry or shad bush, are large deciduous ornamental bushes or small trees that vary in size and form depending on the species. Service berry varieties, which are native to North America, are hardy in U.S. Department of Agriculture zones 2 through 9. Gardeners plant them as border shrubs or specimen plants, or use them to attract wildlife. Servce berry bushes offer year-round ornamental appeal, as well as yielding an edible and flavorful berry that works well in jellies and pies.
Service berry Tree Identification
Most types of service berry bushes are multi-trunked. Their bark color varies from tan to pale gray; some varieties also have dark lines on their branches and trunks, and most have reddish-brown twigs that grow in a zigzag pattern.
The leaves vary In shape from oval to oblong depending upon the species, with finely serrated margins. Young servce berry leaves are purple or greenish-gray, but mature to medium or dark green. Native servce berry offers an attractive fall foliage display when its leaves change to orange, yellow or red, and the silvery bark adds to winter interest.
Flowers and Berries
Servce berry is one of the earliest bushes to produce flowers each year. Early in the spring, hairy, silvery flower buds emerge before the leaves. These buds remain closed for two to three weeks before opening into clusters of showy white blossoms. The petals usually only last between one day and one week, quickly falling from the tree as the foliage begins to appear.
Heavy clusters of small, round, green berries replace the blossoms. The green gives way to red, blue, purple or black as the fruits mature. Servce berry fruits vary in size between ¼ and 3/8 inches in diameter depending on the shrub variety.
Servce berry Varieties and Cultivars
Amelanchier alnifolia 'Regent' or regent servce berry is an early-flowering shrub that grows best in zones 2 through 7. Also called alder-leaved servce berry, it usually reaches heights of 4 to 6 feet with an approximately equal spread and yields rich purple berries, advises Missouri Botanical Garden. Amelanchier canadensis or shadblow servce berry shrub size is between 6 and 10 feet high and it produces sweet black berries.
This species is available in a number of cultivars including 'Spring Glory,' 'Rainbow Pillar' and 'Tradition.' Amelanchier arborea, or common servce berry, is a small tree or tall shrub that reaches heights of 15 to 25 feet, advises Lady Bird Johnson Wildflower Center Native Plant Database. Sometimes called the downy servce berry, a coating of soft hair covers its emerging leaves.
Cultivation and Potential Issues
Servce berry shrubs or trees grow best in partial shade. These hardy plants can tolerate a wide range of growing conditions, but they thrive in nutrient-rich, well-drained, moist acidic soil, with regular amounts of water. Serviceberries do not do well in soggy or poorly drained soil. They benefit from an occasional pruning after they have bloomed to remove dead or dying branches.
Several diseases such as fire blight and leaf spot occasionally infect servce berry plantings. Borer insects sometimes burrow into the wood and create tunnels below the bark, weakening the internal structure and killing limbs or entire plants. Heavy infestations of sap-feeding pests such as aphids and spider mites can speckle, yellow or distort the foliage.
Amelanchier arborea
Amelanchier arborea (downy servce berry or common servce berry), is native to eastern North America from the Gulf Coast north to Thunder Bay in Ontario and Lake St. John in Quebec, and west to Texas and Minnesota.
Scientific classifications
Kingdom: Plantae
Clade: Tracheophytes
Clade: Angiosperms
Clade: Eudicots
Clade: Rosids
Order: Rosales
Family: Rosaceae
Genus: Amelanchier
Species: A. Arborea
Binomial name Amelanchier arborea
Other common names are "shadberries" (as their blossoming coincides with the shad runs in New England), "Juneberries" (because the berries usually set on in June), and "Service" or "Sarvice" berries because their blooms mean that the muddy back roads into the "coves and hollers" of Appalachia will soon be passable for circuit-riding preachers and the communities will be able to have Sunday services again. (Some say, more morbidly, that it means the ground is soft enough to dig, which means that those who died over winter can be buried and have services said over them.)
Amelanchier arborea is generally 5–12 m (16–39 ft) tall. Occasionally, it can grow up to 20 metres (66 ft) tall and reach into the overstory. The trunk can be up to 15 cm (6 in) in diameter (rarely to 40 cm or 16 in). The bark is smooth and gray.
The buds are slender with a pointed tip, and usually more than two scales visible. The leaves are ovate or elliptical, 4–8 cm (1+1⁄2–3+1⁄4 in), rarely 10 cm (4 in), long and 2.5–4 cm (1–1+5⁄8 in) wide, with pointed tips and finely serrated margins. A characteristic useful for identification is that the young leaves emerge downy on the underside. The fall color is variable, from orange-yellow to pinkish or reddish.
Flower details
It has perfect flowers that are 15–25 mm (5⁄8–1 in) in diameter, with 5 petals, emerging during bud break in early spring. The petals are white. Flowers are produced on pendulous racemes 3–5 cm (1+1⁄4–2 in) long with 4–10 flowers on each raceme. The flowers are pollinated by bees.
The fruit is a reddish-purple pome, resembling a small apple in shape. They ripen in summer and are very popular with birds. The fruit is eaten by over 40 species of birds and various mammals, including squirrels, rabbits, chipmunks, mice, voles, foxes, black bears, deer, and elk.
It also commonly hybridizes with other species of Amelanchier, the hybrid Amelanchier × grandiflora being one example, and identification can be very difficult as a result.
Cultivation
This species tolerates varying light levels, but is at its best in full sun. It requires good drainage and air circulation and should be watered during drought. It is often confused with other species in the nursery trade. Propagation is by seed, divisions and grafting.
The edible fruit is drier than some other serviceberries, and it is harvested locally for pies and jams, and has been known to be used for wine; they were also used by Native Americans to make bread.
Some report that the sweetened juice tastes like Dr. Pepper and some nurseries sell them as "The Dr. Pepper Tree", but the fruit is not used in the soft drink.
Service Berry Care
Successfully growing service berries requires carefully balancing several factors: heat, light, and fertilization. Plants that are over-fertilized and grown in warm conditions, but not given enough light, will stretch out looking for more. Plants that are given too much light without a corresponding increase in fertilizer and water will scorch. The right balance indoors likely means a bright corner, with plenty of water, and less fertilizer than you probably think.
Service berry has a reputation for being somewhat of a temperamental plant. Although service berrys are understory plants in their natural habitat, indoors it's a good idea to provide as much light as possible. Plants that are stretching and bleached should be moved into a brighter spot for a few weeks, but don't expose them to full sunlight.
Soil
These palms are acid-loving plants that do best with a pH level as low as 5.0, so don't worry about a peat-based mixture acidifying and hurting your service berry. A standard potting mix, with some extra peat mixed in, is an ideal growing medium for service berrys1. These palms need good drainage to prevent water-logged roots.
Water
Keep the potting media evenly moist, but not waterlogged. Don't let the plant's soil get too dry between watering or you'll start to lose lower leaves.
Temperature and Humidity
This plant will grow fairly well in temperatures between 65 and 85 degrees Fahrenheit. It prefers high humidity but can survive in ordinary household humidity levels. In colder climates where winter air can get very dry; running a humidifier can make the plants happier. Misting the plant daily will also ensure it gets the humidity it craves. Low humidity levels can encourage insect pests.
Some of the Garden hybrids
Since classifications have varied greatly over the past century, species names are often used interchangeably in the nursery trade. Several natural or horticultural hybrids also exist, and many A. arborea and A. canadensis plants that are offered for sale are actually hybrids, or entirely different species. A. × grandiflora is another hybrid of garden origin, between A. arborea and A. laevis.
A taxon called Amelanchier lamarckii (or A. x lamarckii) is very widely cultivated and naturalized in Europe, where it was introduced in the 17th century. It is apomictic, breeding true from seed, and probably of hybrid origin, perhaps descending from a cross between A. laevis and either A. arborea or A. canadensis. While A. lamarckii is known to be of North American origin, probably from eastern Canada, it is not known to occur naturally in the wild in North America.
About Spanish Fork, Utah
Spanish Fork is a city in Utah County, Utah, United States. It is part of the Provo–Orem Metropolitan Statistical Area. The 2020 census reported a population of 42,602. Spanish Fork, Utah is the 20th largest city in Utah based on official 2017 estimates from the US Census Bureau.
Neighborhoods in Spanish Fork, Utah
Leland, Walmart Neighborhood Market, North Park, Spanish Fork City Cemetery, Spanish Fork City Park, Spanish Fork Dons Baseball Field, Canyon View Park - Spanish Fork, Spanish Fork Sports Park, Wash Tub, Somerset Village, Parkside Estates Park, Spencer Curtis Memorial Park, Utah County, Mayberry Street, The Ridge At Spanish Fork, Sierra Park, Abbie Court Park, Quiet Valley by D.R. Horton, Spanish Fork Ranger District, Centennial Park
Things To Do in Spanish Fork, Utah
Bus Stops in Spanish Fork, Utah to Truco Services, Inc.
Bus Stop in Spanish Fork UT Spanish Fork, Utah to Truco Services, Inc.
Bus Stop in Main St @ 210 S Spanish Fork, Utah to Truco Services, Inc.
Bus Stop in Main St @ 60 S Spanish Fork, Utah to Truco Services, Inc.
Bus Stop in Center St @ 369 E Spanish Fork, Utah to Truco Services, Inc.
Bus Stop in Main St @ 931 S Spanish Fork, Utah to Truco Services, Inc.
Bus Stop in 800 E @ 190 N Spanish Fork, Utah to Truco Services, Inc.
Bus Stop in 800 E @ 30 N Spanish Fork, Utah to Truco Services, Inc.
Bus Stop in Main St @ 22 E Spanish Fork, Utah to Truco Services, Inc.
Bus Stop in Main St @ 480 S Spanish Fork, Utah to Truco Services, Inc.
Bus Stop in Main St @ 295 S Spanish Fork, Utah to Truco Services, Inc.
Bus Stop in Expressway Lane @ 945 E Spanish Fork, Utah to Truco Services, Inc.
Bus Stop in Center St @ 139 E Spanish Fork, Utah to Truco Services, Inc.
Driving Directions in Spanish Fork, Utah to Truco Services, Inc.
Driving Directions from Seven Trees Tree Experts to 4640 Commerce Dr, Murray, UT 84107, USA
Driving Directions from KTM Trees to 4640 Commerce Dr, Murray, UT 84107, USA
Driving Directions from Oscar's tree removal to 4640 Commerce Dr, Murray, UT 84107, USA
Driving Directions from Deseret Tree Worx to 4640 Commerce Dr, Murray, UT 84107, USA
Driving Directions from Arbor Etiquette to 4640 Commerce Dr, Murray, UT 84107, USA
Driving Directions from Whitelock Tree Services to 4640 Commerce Dr, Murray, UT 84107, USA
Driving Directions from Skyline Tree Service, LLC to 4640 Commerce Dr, Murray, UT 84107, USA
Driving Directions from A Plus Affordable Tree Service to 4640 Commerce Dr, Murray, UT 84107, USA
Driving Directions from Pest Tree Lawn to 4640 Commerce Dr, Murray, UT 84107, USA
Driving Directions from Robbins Services L.L.C to 4640 Commerce Dr, Murray, UT 84107, USA
Driving Directions from Peterson Tree Care to 4640 Commerce Dr, Murray, UT 84107, USA
Driving Directions from Dave E Tree to 4640 Commerce Dr, Murray, UT 84107, USA
Reviews for Truco Services, Inc. Spanish Fork, Utah
{ "@context":"https://schema.org", "@type":"WebPage", "headline":"Service Berry Bush", "url":"https://truetreeservices.com/service-berry-bush/", "about":
[{"@type": "thing", "name": "serviceberry", "sameAs": ["https://en.wikipedia.org/wiki/Amelanchier", "https://www.google.com/search?q=serviceberry&kgmid=/m/016_bh"]}, {"@type": "thing", "name": "amelanchier", "sameAs": ["https://en.wikipedia.org/wiki/Amelanchier", "https://www.google.com/search?q=amelanchier&kgmid=/m/016_bh"]}, {"@type": "thing", "name": "flowers", "sameAs": ["https://en.wikipedia.org/wiki/Flower", "https://www.google.com/search?q=flowers&kgmid=/m/0c9ph5"]}, {"@type": "thing", "name": "fruit", "sameAs": ["https://en.wikipedia.org/wiki/Fruit", "https://www.google.com/search?q=fruit&kgmid=/m/0fp_scn"]}, {"@type": "thing", "name": "shrub", "sameAs": ["https://en.wikipedia.org/wiki/Shrub", "https://www.google.com/search?q=shrub&kgmid=/m/0gqbt"]}, {"@type": "thing", "name": "berries", "sameAs": ["https://en.wikipedia.org/wiki/Berry_(botany)", "https://www.google.com/search?q=berries&kgmid="]}, {"@type": "thing", "name": "soil", "sameAs": ["https://en.wikipedia.org/wiki/Soil", "https://www.google.com/search?q=soil&kgmid=/m/09dv7"]}, {"@type": "thing", "name": "rhs", "sameAs": ["https://en.wikipedia.org/wiki/Royal_Horticultural_Society", "https://www.google.com/search?q=rhs&kgmid=/m/0fsmj"]}, {"@type": "thing", "name": "garden", "sameAs": ["https://en.wikipedia.org/wiki/Garden", "https://www.google.com/search?q=garden&kgmid=/m/0bl0l"]}, {"@type": "thing", "name": "foliage", "sameAs": ["https://en.wikipedia.org/wiki/Leaf", "https://www.google.com/search?q=foliage&kgmid=/m/09t49"]}, {"@type": "thing", "name": "pruning", "sameAs": ["https://en.wikipedia.org/wiki/Pruning", "https://www.google.com/search?q=pruning&kgmid=/m/02dj6v"]}, {"@type": "thing", "name": "hardy", "sameAs": ["https://en.wikipedia.org/wiki/Hardiness_(plants)", "https://www.google.com/search?q=hardy&kgmid=/m/0499nv"]}, {"@type": "thing", "name": "bark", "sameAs": ["https://en.wikipedia.org/wiki/Bark_(botany)", "https://www.google.com/search?q=bark&kgmid=/m/0btxzm"]}, {"@type": "thing", "name": "birds", "sameAs": ["https://en.wikipedia.org/wiki/Bird", "https://www.google.com/search?q=birds&kgmid=/m/015p6"]}, {"@type": "thing", "name": "cultivars", "sameAs": ["https://en.wikipedia.org/wiki/Cultivar", "https://www.google.com/search?q=cultivars&kgmid=/m/016g6_"]}, {"@type": "thing", "name": "prune", "sameAs": ["https://en.wikipedia.org/wiki/Pruning", "https://www.google.com/search?q=prune&kgmid=/m/02dj6v"]}, {"@type": "thing", "name": "pink", "sameAs": ["https://en.wikipedia.org/wiki/Pink", "https://www.google.com/search?q=pink&kgmid=/m/01fklc"]}, {"@type": "thing", "name": "north carolina", "sameAs": ["https://en.wikipedia.org/wiki/North_Carolina", "https://www.google.com/search?q=north+carolina&kgmid=/m/05fkf"]}, {"@type": "thing", "name": "trees", "sameAs": ["https://en.wikipedia.org/wiki/Tree", "https://www.google.com/search?q=trees&kgmid=/m/07j7r"]}, {"@type": "thing", "name": "fall foliage", "sameAs": ["https://en.wikipedia.org/wiki/Autumn_leaf_color", "https://www.google.com/search?q=fall+foliage&kgmid=/m/026289z"]}, {"@type": "thing", "name": "diseases", "sameAs": ["https://en.wikipedia.org/wiki/Disease", "https://www.google.com/search?q=diseases&kgmid=/m/027x3"]}],
"mentions":
[{"@type": "thing", "name": "juneberry", "sameAs": ["https://en.wikipedia.org/wiki/Amelanchier", "https://www.google.com/search?q=juneberry&kgmid=/m/016_bh"]}, {"@type": "thing", "name": "sarvisberry", "sameAs": ["https://en.wikipedia.org/wiki/Amelanchier", "https://www.google.com/search?q=sarvisberry&kgmid=/m/016_bh"]}, {"@type": "thing", "name": "may cherry", "sameAs": ["https://en.wikipedia.org/wiki/Amelanchier", "https://www.google.com/search?q=may+cherry&kgmid=/m/016_bh"]}, {"@type": "thing", "name": "shadwood", "sameAs": ["https://en.wikipedia.org/wiki/Amelanchier", "https://www.google.com/search?q=shadwood&kgmid=/m/016_bh"]}, {"@type": "thing", "name": "saskatoon berry", "sameAs": ["https://en.wikipedia.org/wiki/Amelanchier", "https://www.google.com/search?q=saskatoon+berry&kgmid=/m/016_bh"]}, {"@type": "thing", "name": "shadbushes", "sameAs": ["https://en.wikipedia.org/wiki/Amelanchier", "https://www.google.com/search?q=shadbushes&kgmid=/m/016_bh"]}, {"@type": "thing", "name": "amelanchièr", "sameAs": ["https://en.wikipedia.org/wiki/Amelanchier", "https://www.google.com/search?q=amelanchièr&kgmid=/m/016_bh"]}, {"@type": "thing", "name": "alleghany serviceberry", "sameAs": ["https://en.wikipedia.org/wiki/Amelanchier", "https://www.google.com/search?q=alleghany+serviceberry&kgmid=/m/016_bh"]}, {"@type": "thing", "name": "western serviceberry", "sameAs": ["https://en.wikipedia.org/wiki/Amelanchier_alnifolia", "https://www.google.com/search?q=western+serviceberry&kgmid=/m/02w97v"]}, {"@type": "thing", "name": "landscape plant", "sameAs": ["https://en.wikipedia.org/wiki/Ornamental_plant", "https://www.google.com/search?q=landscape+plant&kgmid=/m/01fpl7"]}, {"@type": "thing", "name": "mulch", "sameAs": ["https://en.wikipedia.org/wiki/Mulch", "https://www.google.com/search?q=mulch&kgmid=/m/027t7q"]}, {"@type": "thing", "name": "grandiflora", "sameAs": ["https://en.wikipedia.org/wiki/Garden_roses", "https://www.google.com/search?q=grandiflora&kgmid=/m/0fpjlj9"]}, {"@type": "thing", "name": "shadblow", "sameAs": ["https://en.wikipedia.org/wiki/Amelanchier", "https://www.google.com/search?q=shadblow&kgmid=/m/016_bh"]}, {"@type": "thing", "name": "ornamental bushes", "sameAs": ["https://en.wikipedia.org/wiki/Ornamental_plant", "https://www.google.com/search?q=ornamental+bushes&kgmid=/m/01fpl7"]}, {"@type": "thing", "name": "pyrus calleryana", "sameAs": ["https://en.wikipedia.org/wiki/Pyrus_calleryana", "https://www.google.com/search?q=pyrus+calleryana&kgmid=/m/02ldjd"]}, {"@type": "thing", "name": "amelanchier alnifolia", "sameAs": ["https://en.wikipedia.org/wiki/Amelanchier_alnifolia", "https://www.google.com/search?q=amelanchier+alnifolia&kgmid=/m/02w97v"]}, {"@type": "thing", "name": "juneberries", "sameAs": ["https://en.wikipedia.org/wiki/Amelanchier", "https://www.google.com/search?q=juneberries&kgmid=/m/016_bh"]}, {"@type": "thing", "name": "serviceberry", "sameAs": ["https://en.wikipedia.org/wiki/Amelanchier", "https://www.google.com/search?q=serviceberry&kgmid=/m/016_bh"]}] }