Hardscaping is the term used for describing non-living things in the garden. This often includes paving, walkways, patios, and even benches, birdbaths and sculptures. By incorporating hardscape design in your lawn, you will add not only aesthetical value to your home, but monetary value as well.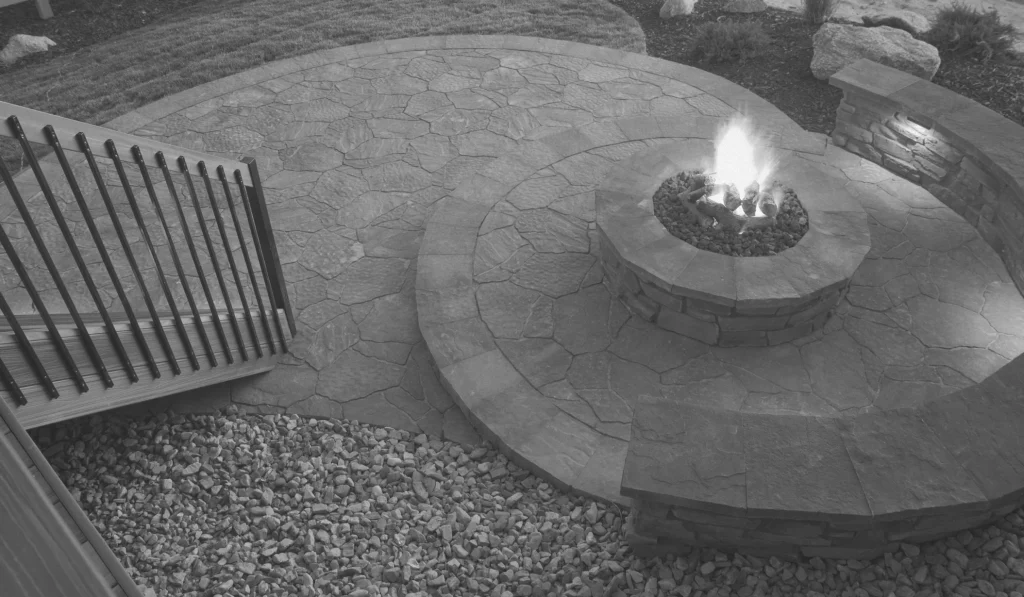 The term hardscape refers to any part of your landscape that is covered by a hard material such as brick, concrete and any other type of stone. If you are thinking about improving the condition of your hardscape, you are going to need to do several things to increase its ability to withstand the elements.
Adding planters and sculptures
One of the main principles applied in graphic design and photography is finding a major element that would draw the audiences' eyes. Landscaping and hardscaping is the same, since careful planning is needed to keep everything in balance. Adding foliage and blooms on your garden can do a lot however, adding too many plants can make your yard look more of a rainforest instead of a garden. To avoid this, you can add additional elements, as well as texture and contrast to balance everything out. For hardscaping purposes, you can always add sculptures and big rocks to add more style and focal elements.
Keep the walls
If you want to add dimension to your own garden, it would be a good idea to add or retain walls. If you want, you can replace the back part of your garden with additional two short walls and add plants per level. This will allow you to maintain a certain theme, as well as put together same types of plants in different locations, without having to worry about making your garden look too dull and uniform. Curved walls on the other hand, will add somewhat a sense of motion through the addition of a curving wall or a terrace above your garden. Another purpose of retaining the walls in your garden is for hiding your unattractive gray porch or foundation. They can also serve as a protection for the delicate flowers you have planted in your garden, from children or pets running around. If you want, you can also raise the surface of your soil, to keep the water from seeping into your home's foundation.
Paving
Another important aspect included in hardscaping is paving. This is another landscaping element that does not only serve the purpose of being a walkway but at the same time, protect your plants from being stepped on. There are many materials that you can use for paving, with designs and styles ranging in different varieties. However, keep in mind that paving your yard would also create problems such as weeding and additional mowing requirements. This can be dealt with by setting pavers below grade, as well as leaving enough space for you to mow grass in. If this is not possible, you are left with no choice but to dig out your entire walkway space or patio to leave an area where you can lay out a weed barrier and add gravel, mortar, or sand between the pavers.
If you want to make the most out of your landscape garden, make sure that the hardscape design job is complete too, so that your garden will not look like much of a forest. By putting a separate element as your yard's main focal point, you can add more color, texture and style to your lawn. You should use a sealer on your outside stones and concretes. Sealers make it much easier for you to clean the surfaces. The way the sealer works is that when it is applied, it makes a protective barrier that keeps oils, gasoline, food and other substances from staining the surface. A good sealer can also reduce the amount of weed growth and pests that reside in your stone landscape surfaces. A little sealer can go a long way and it also looks more attractive than unsealed surfaces. You can protect your surfaces from the elements and products like salt that can destroy the appearance of your pavers.
If you have recently had your paver surfaces installed, you may be anxious to apply a sealer to start protecting the surface. It is actually recommended that you wait at least two months before you apply any products to your new surfaces. This is to allow the remaining manufacturing residues to dissipate. Hire a professional company to do the sealing. They can clean the surface and apply fresh sealant afterwards. Keep in mind that a good application of sealant will last for a few years. After three to four years, you may want a company to come out and clean and seal the surface for continued protection.
It doesn't matter how old your hardscape is, it can always benefit from having a sealant applied to it. Just contact your hardscaping company and have them do an inspection before they start the process. In addition to having a protective barrier applied, a reputable company can provide a variety of services for your pavers. They can fix any damaged spots that have sunken in, separation and any type of repair or maintenance task you can think of.
There is no reason for you to be envious of your neighbor's home because they have paved driveways and a paved patio. You can have the same enhancements too. You don't have to worry about how to care for it, because if you hire a good restoration service they can do all of the upkeep for you. You can add more personality and personal touches to your patio and walkways by adding hardscapes to your property. You can increase your property's potential and market value by adding certain enhancements and features to it. Your home should look beautiful on the inside and outside. Don't hesitate to contact a Truco services which specializes in the design, treatment and maintenance of stone enhancements to your landscape.
Advantage of Hardscaping
Since hardscape features are not living organisms, they provide a means of increasing property value and the attractiveness of the property without requiring the same level of constant care and maintenance that lawns and gardens do. This makes an emphasis on hardscaping ideal for owners who do not have a lot of time to devote to lawn care, those who live in arid regions or in areas where water use is restricted, or those who wish to improve the value of their property but are not particularly inclined toward gardening.
Hardscape Features
Hardscape features such as ornate benches or gazebos can be incorporated into an existence landscaping scheme to provide a degree of functionality, as well, giving visitors a place to relax and enjoy the scenery. Fountains and pools can improve the overall ambience of the property, creating a more calming and serene atmosphere, helping to drown out noise pollution and attract local fauna. Attractive stone walkways can be utilized, not only for their functionality, but to mask problem areas where grasses and other plants are slow to take hold. Fences and rock walls can provide wind barriers and improve privacy. Hardscaping also allows for features such as raised flower beds that can help to break up visual monotony.
Drainage Issues
When installing hardscape features it is important to assess how these additions will affect the overall drainage and water uptake of the soil. Anything that is placed over the ground is going to have an impact on overall water content of your lawn. If you plan to incorporate a lot of hardscape features into your landscaping, then it may prove beneficial to install sprinkler systems to make sure that your vegetation is still able to meet its water requirements.
It is also important to look at how hardscaping features will affect the overall flow of drainage on your property. You will need to carefully plan each feature so that it helps direct water away from the home, rather than towards it. Ideally, hardscape features should work to the benefit of your plants, directing water flow toward those that require the most amount of water and away from plants that need better drainage.
If done properly, a landscape that includes hardscaping aspects can be both beautiful and functional. They can create a visually appealing area for recreation and relaxation, and significantly increase the value of a homeowner's property. Using a respectable and qualified landscape designer can help alleviate the risk of improper drainage and can help to assure that the overall effect of the landscape is a success, providing years of use and enjoyment to the homeowner.
Bringing your outdoor landscape to life is an exciting home improvement project. From irrigation to lighting and patios to flower bushes, there are a number of different ways to treat your lawn. Most home or business owners take interest primary in landscape services, but there is an entirely new world of outdoor décor available when you start digging in to the hardscape aspect of landscape design. While landscaping deals more with the aesthetics of a lawn, hardscapes relate to comfort and have the ability to create new living spaces outdoors.
The backyard is where homeowners are really given room to play with their design. Things like fireplaces, brick and stonewall structures, dry stack stone, and timber walls are all popular backyard additions. Most homeowners will start with a simple patio to build off of. Patios can then transform and additions like the aforementioned fireplace, or outdoor kitchen and fire pits are installed. Not only does this make for a friendly outdoor invitation for guests, but it increases the overall value of your property.
Stamped concrete is a popular investment for property owners interested in hardscape services. Stamped concrete gives consumers flexibility in their design for pathways, driveways, and more. Rather than laying brick by brick, a stamped concrete designs gives the feel and look of individually places stones without the daunting installation and chance of unbalanced walkways. They are also less prone to cracking and will not "pop" out of place as time ages the design. An easy way to clean your stamped concrete would be pressure washing.
The area around a pool is always a go-to for hardscape design. Not only can the area surrounding the pool be garnished with stamped concrete and a patio wing with a fireplace, but the walls surrounding the pool can be elegantly installed. Stone retainer walls provide not only privacy, but are durable and an investment that offers solid returns. Additionally, if there are any pool steps adjacent to the pool area, they can be customized to match the stamped stone or hardscapes in the pool area. Whether it is your driveway or back patio, there are a number of ways to jazz up your landscape with hardscape services. They can bring your lawn to life as they open up new living spaces and with a customized taste. If you are looking to revamp your outdoor living, do not forget the power of hardscapes. Not only do they enhance comfort and appeal, but your property value increases overall.
Services Landscaping Company Usually Offer
If you are interested in improving the area around your house, you might be thinking about landscaping services. Most people can likely benefit from the help landscapers can provide, since they offer many different options. Get to know some of the choices you have when it comes to services you should be taking advantage of.
The main landscaping service you likely think about is simple upkeep of your yard. This is clearly important if you do not want your plants, trees, and grass to grow wildly while looking unkempt. If you are concerned about this, you should seek landscapers to offer the attention your yard needs. They will have the tools you might not have, such as a lawn mower, edger, leaf blower, and more. You can schedule them to come once to get the yard under control, or you can have them come regularly, such as every two weeks. If you are not sure how often you need them to come to your property, you should ask for their professional opinion while also considering what your budget allows.
Another job for a landscaping company is planting new flora. Whether you have a few dead plants you need to replace or just want to fill in your yard a little more, you should ask landscapers for help with this job. They can assist you in choosing the right trees and plants to install, and then they can buy and plant them. If you want to make sure the ones you get will thrive, you should find out which plants are best for the climate you are in. You should then arrange for regular landscaping services to keep them in check and looking nice at all times.
In addition, you can often hire landscapers to install hardscaping on your property. This refers to items that enhance your yard without being alive like plants and trees are. Examples might include water fountains, decorative walls, patios, and more. You can typically choose from materials that include brick and concrete, and you can then request that they be a certain color or have patterns etched into the surface. The goal of these options is to improve the way your property looks, so you should have lots of choices and trust you will get great quality results.
There are likely plenty of landscapers in your city. You just need to determine what your needs are, and then find a company that offers the services you desire. Then all you have to do is set up a meeting with the staff so that you can make sure your goals are possible. But, Truco services is always there to help in solving both your landscaping and hardscaping for you.